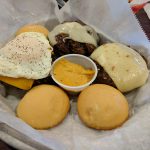 Happy Tuesday, my friends! I hope everybody had a great weekend! I took a couple of personal days to extend mine out, and I basically did absolutely nothing I was planning on doing, with the exception of a few hours of Mass Effect Andromeda. However, last night, I did have the opportunity to hit one of KJ's Kinda Nerdy Night Out events at Studio Movie Grill, where they showed the season premier of Doctor Who, with a bonus first episode of Class. That was a really good time, and I thank KJ for the invitation! Keep your eyes open for the next event, Guardians of the Galaxy, Vol. 2!
Now, let's see what's happening the rest of the month, and then the month of May. Next week, we start looking ahead to June!
No foolin', April is halfway over:
April 18th: Quirky Feather Graphic Novel Book Club! This is the first meeting of the Graphic Novel Book Club, at the Quirky Feather Confectionery in Carmel! Join them as they discuss The Unbeatable Squirrel Girl Vol. 1: Squirrel Power from 7:00 PM to 8:00 PM.
April 22nd: 3rd Annual White Flag Games Yard Sale! Head to Mooresville this Saturday, from 12:00 PM to 5:00 PM for some great deals on used games! You can also get your own table! Table prices and more event information at the link!
April 23rd: Maplewood Derby! Hosted by Partners in Housing at the Metazoa Brewing Company in Indianapolis, this is Pinewood Derby for adults! Build and race a car for a good cause! Details and ticking pricing can be found at the link!
Looking ahead to the month of May, where there is more than racing happening:
May 4th: KJ's Kinda Nerdy Night Out – Guardians of the Galaxy, Vol. 2! Longest event name ever! Join KJ from 107.9 The Mix with a premier showing of the next film in the Marvel Cinematic Universe, Guardians of the Galaxy, Vol. 2! Check out the Facebook event link, and keep track there for a way to win VIP Tickets!
May 5th: Strange Universe Music Night! Radio Radio will be hosting not one, but three awesome acts on Friday night! In no particular order, there will be Time Crash (a Chicago-based band doing music based on Doctor Who), Goblin King (a Labyrinth/Bowie tribute by local Jason Bambery), and the CD Release of the Shake Up's newest project, the Shake Ups in Beach City (a Steven Universe-inspired music project)! Check out the link, and I hope to see you there! (21 and over, only!)
May 6th: Free Comic Book Day! A day celebrated by comic shops across the state! Visit the link for more information, and look for a blog post on the week of to see what shops are doing what! I know, as of right now, Aw Yeah! Comics in Muncie has a solid list of professional guests, and Downtown Comics is going to be hosting a fundraiser for the Payton Manning Children's Hospital with the Circle City Ghostbusters!
May 6th: Shake Ups All-Ages CD Release! To celebrate the release of their new CD, The Shake Ups in Beach City will be holding an all ages show in Fountain Square, at Hero House Comics from 6:30 PM to 8:00 PM. It's a great way to cap off Free Comic Book Day!
May 21st: Cullen Bunn Signing! Aw Yeah Comics in Muncie will be hosting writer Cullen Bunn from 1:00 PM to 4:00 PM. Known for his work on Deadpool Kills Deadpool for Marvel, and his own work, Harrow County, you'll be able to meet him and get your books signed!
May 23rd: I turn 40. I know, not really that big of a deal, but my mind has it as a milestone, so here we go.
Now, what's happening with the blog, the blogger, and friends of the blog?
This Week's Photo: It's another #TourdeFat picture! The final week was a trio of sliders: The Steak & Egg, the Cajun, and the Garlic!
Be a Hero to Hero House: If you didn't see it in their FLS Friday post, Hero House Comics in Fountain Square is ran by a pretty damn cool guy who needs a little bit of help. Please visit the Go Fund Me page and help out where you can! Also, go in, and buy stuff from him!
Tour de Fat: I wrapped this up with a blog post last week, but I didn't list my final "Top Twelve" in the post. So, after the final wrap up of the Steak & Egg, Cajun, and Garlic Sliders, here we go!

1) Bacon & Cheddar Stuffed Bacon Cheeseburger
2) Reuben Burger
3) Hot & Spicy Burger
4) Hawaiian Burger
5) Pizza Burger
6) Black & Bleu Burger
7) BBQ Bacon & Cheddar Burger
8) Chili Burger
9) Sloppy Burger
10) Steak & Egg, Cajun, and Garlic Sliders
11)  Taco Burger
12) German Dog

Do you like how the blog looks? Then check out Studio 27 Indy and TikiKitchen Design. I just write this stuff. They're the ones that make me look good.
Support the Blog: So far, I have podcast hosting, Dropbox, and Adobe Creative Cloud (student subscription, I'm not THAT rich!) covered, thanks to friendly awesome supporters! However, I could still use help, to make sure I have enough for domain name hosting, equipment improvements, and convention tables!
That's it for this week, as we roll our way through 2017! I'll see you all tomorrow!
Tony