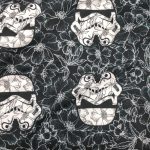 Happy Tuesday, my friends! We are here for another week's selection of events and news about happenings in the Hoosier state! This weekend we've got a couple of creator visits at Downtown Comics North and Aw Yeah Comics, and then next week is the week of 40th birthdays, with mine on the 23rd and Star Wars on the 25th! However, we still need to get through this week! Myself, I'm trying to clean up the Geek Cave for a birthday party/sleepover for Lizz's daughter, figure out blog posts, and trying to map out the time to work on all of the projects I'm hoping to work on!
So, with that, let's see what's happening for Hoosier geeks!
The month of May keeps rolling:
May 17th: Little Guardians at Comic Carnival! Join the awesome local duo of Ed and Lee at Comic Carnival in Indianapolis, from 4:00 PM to 7:00 PM, and check out their book, Little Guardians, which is about village children fighting demons badly!
May 20th: John Tyler Christopher and Cullen Bunn Signing! Held at Downtown Comics North in Indianapolis, artist John Tyler Christopher and writer Cullen Bunn will be signing books from 12:00 PM to 5:00 PM.
May 21st: Cullen Bunn Signing! Aw Yeah Comics in Muncie will be hosting writer Cullen Bunn from 1:00 PM to 4:00 PM. Known for his work on Deadpool Kills Deadpool for Marvel, and his own work, Harrow County, you'll be able to meet him and get your books signed!
May 23rd: I turn 40. I know, not really that big of a deal, but my mind has it as a milestone, so here we go. Heck, if you really want to, here's the blog's wish list on Amazon, if you want to get me something nice. Why not? I have no shame.
May 25th: Happy 40th, Star Wars!
May 27th: Return of Doctor Mysterio Viewing! Who North America is continuing to set up new things in their location, and one is a viewing room with a 60″ TV! Viewing is free, and they'll be showing this past year's Doctor Who Christmas Episode at 2:00 PM and 6:00 PM!
Looking ahead to the month of June
Now, what's happening with the blog, the blogger, and friends of the blog?
This Week's Photo: I've been looking to make my own Hawaiian shirts, and this material just jumped out at me at JoAnn's over the weekend. Tell me THAT'S not a sweet shirt print!
Do you like how the blog looks? Then check out Studio 27 Indy and TikiKitchen Design. I just write this stuff. They're the ones that make me look good.
Support the Blog: So far, I have podcast hosting, Dropbox, and Adobe Creative Cloud (student subscription, I'm not THAT rich!) covered, thanks to friendly awesome supporters! However, I could still use help, to make sure I have enough for domain name hosting, equipment improvements, and convention tables!
That's it for this week, as we roll our way through 2017! I'll see you all tomorrow!
Tony