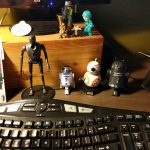 Happy Tuesday, my friends! We are here with just a few days left of May, and we're rolling right into June by the end of the week. Funny how calendars work, eh? This weekend is kicking off strong with an All Things Handmade craft show hosted by my friends over at Who North America! I'm going to have some friends vending at that show, as well, so I strongly recommend checking it out! Event cancelled due to projected rain.
You also need to remember that starting at the end of June, we're going to have a couple of REALLY busy weekends! The weekend before fourth of July, you have your choice between Days of the Dead and InConJunction (or both!), and then the following weekend is Indy Pop Con! Of course, I'm going to be in attendance in Internet Alley, and I'm working with TikiKitchen Designs on some cool stuff, if you wish to buy Geeking in Indiana things, to help me get equipment and pay for blog upkeep! So, I hope I'll see you there!
Now, with that, let's see what's happening for Hoosier geeks!
Looking ahead to the month of June
June 3rd: All Things Handmade Craft Show! It's the first craft show at Who North America! Not everything is going to be Doctor Who related, but everything will be locally crafted by local artisans and authors! Check it out, and support local! Event cancelled due to projected rain
June 10th: George Kramer Book Signing! Local author George Kramer (Arcadis series, Blind for Blood) will be at Scarlet Lane Brewing from 3:00 PM to 9:00 PM to talk to you about his books, and sign them, all while you enjoy local beer! Local author plus a local brewery equals a winning combo! Take a look at the Facebook event page for more information!
June 11th: NWI A.C.E.! From the folks who bring you NWI Comic Con, it's the NWI Arts & Comics Expo! A smaller show, focusing on their vendors and artists, it's running from 11:00 AM to 3:00 PM at the Patrician Banquet Center in Schererville! Check out the site for more information!
June 25th: Benefit Concert for Libby's Fight! Libby is a child battling cancer, and this is a show featuring The Shake Ups and Rejoice at Bent Rail Brewery in Indianapolis from 2:00 PM to 5:00 PM. Admission is free, attendees are eligible for door prizes, and suggested donations can be made to the Go Fund Me campaign at this link!
Transitioning from June to July, we have a couple of events:
June 30th – July 2nd: InConJunction XXXVII! The 37th incarnation of this fan-run convention is on its way! Come have a good time with fellow Geeks in this show filled with long-time Hoosier fans, nerds, and Geeks!
June 30th – July 2nd: Days of the Dead! It's a horror show, literally! This horror convention is back, with a large list of horror actors and wrestlers! Click the link for more details!
Ahead to July!
July 7th – 9th: Indy Pop Con! In their fourth year, this fan convergence brings together lovers of popular culture, internet culture, and local Geekery.
July 15th: Teen Con! Held at the New Castle Henry County Public Library, this is a small show for the Teen Reading Program. They will have vendors, a costume contest, and of course, me! I give love to this, because this is my hometown and I like what they do!
July 28th – 30th: Ikasucon! This anime convention returns to the Grand Wayne Center in Fort Wayne! Dealers, guests, and cosplay for those who love anime! Check it out!
Now, what's happening with the blog, the blogger, and friends of the blog?
This Week's Photo: I got a few bucks for my birthday, so while I also paid off some debt, I also got some toys! I already had the R2 and the BB-8, just picked up the Disney Store versions of K-2S0 and… whatever that black R2 unit is that just looks really cool.
Do you like how the blog looks? Then check out Studio 27 Indy and TikiKitchen Design. I just write this stuff. They're the ones that make me look good.
Support the Blog: So far, I have podcast hosting, Dropbox, and Adobe Creative Cloud (student subscription, I'm not THAT rich!) covered, thanks to friendly awesome supporters! However, I could still use help, to make sure I have enough for domain name hosting, equipment improvements, and convention tables!
That's it for this week, as we roll our way through 2017! I'll see you all tomorrow!
Tony