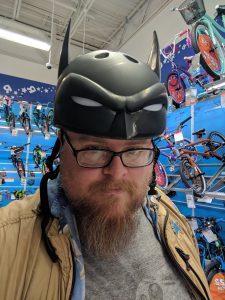 Happy Tuesday, my friends! I trust everyone had a fantastic weekend! Mine was spent in California, visiting the Geekling, and I just returned yesterday afternoon! As soon as I got unpacked, it was time for Margarita Monday, to discuss JoCo Cruise and a Geeking webstore, so this week's Tuesday Tidbits are being typed up really quick, before I get on the clock for work!
Even in the rush, I do have a new item in June, for the fine folks behind Little Guardians! So, let's take a look at that, and make sure you have everything else on your calendar!
Looking at the month of June:
Transitioning from June to July, we have a couple of events:
June 30th – July 2nd: InConJunction XXXVII! The 37th incarnation of this fan-run convention is on its way! Come have a good time with fellow Geeks in this show filled with long-time Hoosier fans, nerds, and Geeks!
June 30th – July 2nd: Days of the Dead! It's a horror show, literally! This horror convention is back, with a large list of horror actors and wrestlers! Click the link for more details!
Ahead to July!
July 7th – 9th: Indy Pop Con! In their fourth year, this fan convergence brings together lovers of popular culture, internet culture, and local Geekery.
July 15th: Teen Con! Held at the New Castle Henry County Public Library, this is a small show for the Teen Reading Program. They will have vendors, a costume contest, and of course, me! I give love to this, because this is my hometown and I like what they do!
July 28th – 30th: Ikasucon! This anime convention returns to the Grand Wayne Center in Fort Wayne! Dealers, guests, and cosplay for those who love anime! Check it out!
Now, what's happening with the blog, the blogger, and friends of the blog?
This Week's Photo: I'm not sure what got the Pibble's attention in this pic. I assume it has something to do with food.
Nerd's Domain has been burgled! Matt Quiett of the Nerd's Domain family of podcasts had his house broken into, and lost a lot of equipment! Can you help a fellow Hoosier Geek Media maker get back on his feet? Every little bit helps!
Indy Pop Con 2017: I'm still working on what's happening with the table. It looks like the turnaround time for some of the stuff I was looking to have is a bit longer than anticipated, so there won't be much merch. However, I'm working with Studio 27 on integrating a new "Geeking Webstore" in the blog, which will premier the week after Indy Pop Con. Keep your eye on this space for more information.
Do you like how the blog looks? Then check out Studio 27 Indy and TikiKitchen Design. I just write this stuff. They're the ones that make me look good.
Support the Blog: So far, I have podcast hosting, Dropbox, and Adobe Creative Cloud (student subscription, I'm not THAT rich!) covered, thanks to friendly awesome supporters! However, I could still use help, to make sure I have enough for domain name hosting, equipment improvements, and convention tables!
That's it for this week, as we roll our way through 2017! I'll see you all tomorrow!
Tony