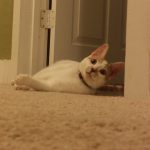 Happy Tuesday, my friends, and happy 4th of July! In all honesty, I know not many of you are going to be looking at this today, but still, here I am! We're now solidly inside July, so we don't have any weird shows bordering both months happening here, and we're looking ahead to July and August! First, though, we need to make it through #PopConWeek here at Geeking in Indiana! Starting yesterday with Media Monday, we are focusing on this weekend's Indy PopCon! Tomorrow will talk about the show itself, Thursday will talk about the awesome creators you'll want to find, and Friday will talk about where to find me, and what I'll have at the show!
For now, though, let's see what's happening for Hoosier Geeks!
It's now July!
On to August!
Now, what's happening with the blog, the blogger, and friends of the blog?
This Week's Photo: The Geek Cat has graced me with an opportunity for a selfie. How can I say no to that?
Nerd's Domain has been burgled! Matt Quiett of the Nerd's Domain family of podcasts had his house broken into, and lost a lot of equipment! Can you help a fellow Hoosier Geek Media maker get back on his feet? Every little bit helps!
Help White Flag Games Expand! White Flag Games in Mooresville is looking to move to better digs, and expand their business to include Escape Rooms! You might have seen my FLS Friday post about them last year (link), and if you did you know I think they're a pretty cool group, and their shop is a great asset to their area. So, if you would like to take a look, and take a peek at their supporter levels, I know it would be appreciated by all!
Do you like how the blog looks? Then check out Studio 27 Indy and TikiKitchen Design. I just write this stuff. They're the ones that make me look good.
Support the Blog: So far, I have podcast hosting, Dropbox, and Adobe Creative Cloud (student subscription, I'm not THAT rich!) covered, thanks to friendly awesome supporters! However, I could still use help, to make sure I have enough for domain name hosting, equipment improvements, and convention tables!
That's it for this week, as we roll our way through 2017! I'll see you all tomorrow!
Tony