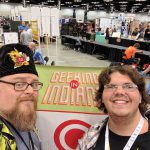 Happy Tuesday, my friends, and welcome to this week's installment of Tuesday Tidbits! I had a fantastic weekend at Indy PopCon, seeing a bunch of friends, meeting some Twitter folk I hadn't met before, and just enjoying the fact my feet weren't dying, but I am exhausted now! Still, I wouldn't have traded the experience for anything, and I've already purchased my table for 2018, in Internet Alley once more! I have one more show this summer that I'll have a table at, before I go back to being regular old press, and that's the TeenCon in New Castle on Saturday! So, if you're in the area, drop by and say hi!
For now, though, let's see what's happening for Hoosier Geeks!
It's now July!
July 12th: Little Guardians at Aw Yeah Comics! So many of my favorite people in one place, and I have to be at work! Wednesday, from 3:00 PM to 6:00 PM, see Lee and Ed, creators of Little Guardians, at Aw Yeah Comics in Muncie!
July 15th: Teen Con! Held at the New Castle Henry County Public Library, this is a small show for the Teen Reading Program. They will have vendors, a costume contest, and of course, me! I give love to this, because this is my hometown and I like what they do!
July 19th: Jim McClain Book Signing at Aw Yeah Comics! Comic creator and math teacher Jim McClain will be at Aw Yeah Comics in Muncie from 3:00 PM to 6:00 PM, signing books and talking educational comics! Check it out!
July 21st: 3rd Fridays on the Plaza! This free outdoor concert series, held in Fountain Square and sponsored by Arthur's Music Store, will be featuring local bands Five Year Mission and the Yavin 4! Check out a fun part of Indy, with a couple of great Geek bands from 6:00 PM to 9:00 PM!
July 22nd: Curse Words Van Tour at Aw Yeah Comics! Ryan Browne and Charles Soule have a book coming out (Curse Words), and they're taking a van on tour to promote it. Aw Yeah Comics in Muncie is going to be one of their stops! In fact, it's their second stop on the tour, after they kick off on the 21st! So, stop by from 2:00 PM to 5:00 PM and check out the craziness, and the new book!
July 22nd: Krypton Comics Mini-Con! Hosted by Krypton Comics in Martinsville, this will include representatives from the Indiana Toy & Comic Expo, and local artists Jason Keith Phillips and Matthew Skillern!
July 28th – 30th: Ikasucon! This anime convention returns to the Grand Wayne Center in Fort Wayne! Dealers, guests, and cosplay for those who love anime! Check it out!
On to August!
Now, what's happening with the blog, the blogger, and friends of the blog?
This Week's Photo: Since Grant was at Indy PopCon on Sunday, I was able to grab a selfie with him by the Geeking banner! How could I NOT use this image today?
Nerd's Domain has been burgled! Matt Quiett of the Nerd's Domain family of podcasts had his house broken into, and lost a lot of equipment! Can you help a fellow Hoosier Geek Media maker get back on his feet? Every little bit helps!
Help White Flag Games Expand! White Flag Games in Mooresville is looking to move to better digs, and expand their business to include Escape Rooms! You might have seen my FLS Friday post about them last year (link), and if you did you know I think they're a pretty cool group, and their shop is a great asset to their area. So, if you would like to take a look, and take a peek at their supporter levels, I know it would be appreciated by all!
Do you like how the blog looks? Then check out Studio 27 Indy and TikiKitchen Design. I just write this stuff. They're the ones that make me look good.
Support the Blog: So far, I have podcast hosting, Dropbox, and Adobe Creative Cloud (student subscription, I'm not THAT rich!) covered, thanks to friendly awesome supporters! However, I could still use help, to make sure I have enough for domain name hosting, equipment improvements, and convention tables!
That's it for this week, as we roll our way through 2017! I'll see you all tomorrow!
Tony