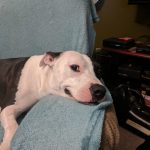 Happy Tuesday, my friends! I don't know about all of you, but I'm in that "take a deep breath, and re-center" part of the summer where I'm not hitting any shows until Gen Con, but I need to get my act together for that! This week, while there are cool things happening, I'll be re-organizing the Geek Cave office, taking inventory of supplies and product, and figuring out how I can get all of the interviews and posts I want to do for pre-Gen Con 50 done in time for the show! Then, I need to look at what I want to do for Doctorberfest, and Starbase Indy, at the ends of October and November, respectively! What can I say? There's never a dull moment for a Geek in Indiana, right?
Speaking of the lack of dull moments, let's take a look at the stuff we have coming down the pike in July and August! Starting next week, I'll also start looking forward to September!
It's now July!
On to August!
Now, what's happening with the blog, the blogger, and friends of the blog?
This Week's Photo: Zoey the Pibble reminds you to smile!
Nerd's Domain has been burgled! Matt Quiett of the Nerd's Domain family of podcasts had his house broken into, and lost a lot of equipment! Can you help a fellow Hoosier Geek Media maker get back on his feet? Every little bit helps!
Help White Flag Games Expand! White Flag Games in Mooresville is looking to move to better digs, and expand their business to include Escape Rooms! You might have seen my FLS Friday post about them last year (link), and if you did you know I think they're a pretty cool group, and their shop is a great asset to their area. So, if you would like to take a look, and take a peek at their supporter levels, I know it would be appreciated by all!
Do you like how the blog looks? Then check out Studio 27 Indy and TikiKitchen Design. I just write this stuff. They're the ones that make me look good.
Support the Blog: So far, I have podcast hosting, Dropbox, and Adobe Creative Cloud (student subscription, I'm not THAT rich!) covered, thanks to friendly awesome supporters! However, I could still use help, to make sure I have enough for domain name hosting, equipment improvements, and convention tables!
That's it for this week, as we roll our way through 2017! I'll see you all tomorrow!
Tony