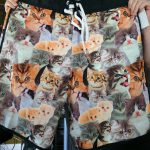 Happy Tuesday, people of the Internet! It is time once again for your Tuesday Tidbits! It's your weekly update of things happening that I think would be of interest to Geeks in the Hoosier state! This week, I added First Friday in Kokomo, where I've been invited to sit in with a panel of Geeks at Kokomo Toys, and have kids and families try to stump us! In addition, I've added the Indy Disney Meet, for all you DisNerds out there (FYI, being a DisNerd is a heck of a lot better than being an annual passhole)! This is in addition to all the other fantastic things we have happening for Hoosier Geeks here in Indiana! So, go ahead and give me a bit of your time, sit back, and be in awe of my kitty cat board shorts I got for use at the pool at next year's JoCo Cruise!
August is here!
Looking ahead to September!
Now, what's happening with the blog, the blogger, and friends of the blog?
This Week's Photo: Don't be jealous of my style. These cat print board shorts were found at Target (link), thanks to a heads up from local filmmaker and brewer, Joshua Hull! Thanks for the heads up, man!
Do you like how the blog looks? Then check out Studio 27 Indy and TikiKitchen Design. I just write this stuff. They're the ones that make me look good.
Support the Blog: So far, I have podcast hosting, Dropbox, and Adobe Creative Cloud (student subscription, I'm not THAT rich!) covered, thanks to friendly awesome supporters! However, I could still use help, to make sure I have enough for domain name hosting, equipment improvements, and convention tables!
That's it for this week, as we roll our way through 2017! I'll see you all tomorrow!
Tony