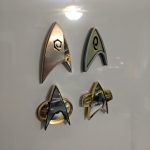 Happy Tuesday that feels like a Monday, my friends! I hope everyone had a fantastic weekend! I just returned from Southern California, and a Geekling visit, last night, and I'm actually firing this off this morning, before I return to work! It was a fun visit, with trips to five different Halloween stores to help the Geekling with their Halloween costume! Needless to say, a good time was had by all! Now, I'm back in Indiana, and I've got a lot of stuff on the plate. For example, Saturday I'll be spending the day with the crew of the Obsessive Viewer Podcast, at their "Losers Club" group viewing of It, then we're going to record thoughts on it, before I head over to his recording studio and record some thoughts on The Gunslinger for their new podcast, Tower Junkies! This is after a week of catching up on work, and a recording session for the next Indiana Geeking Podcast on Thursday, which will be edited and set to release on the 15th! So, busy week!
However, enough about me, what's going on in the state of Indiana for Hoosier Geeks?
Looking at the month of September!
September 8th – 10th: Tri-Con! This is a locally-ran pop culture convention down in Evansville that sounds like a good time! Someday, I'll be able to visit, but sadly not this year. You should still go, though!
September 8th – 10th: HorrorHound! This is a cool horror convention, with a strong Halloween focus (the holiday, not the movie). I attended a few years ago, and while horror isn't my scene, it was definitely interesting.
September 15th – 17th: RamenCon! Anime convention up in South Bend! I don't normally catch wind of a lot of events in that area, so if you're up there, check it out!
October will be here sooner than you think!
Now, what's happening with the blog, the blogger, and friends of the blog?
That's it for this week, as we roll our way through 2017! I'll see you all tomorrow!
Tony