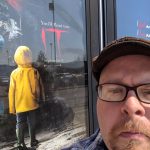 Happy Tuesday, my friends! We are back with another week's Tuesday Tidbits! This week, I have probably a half dozen more events that have appeared on my radar since last week! I keep forgetting about the former Fishers Renaissance Faire, now the Indiana Renaissance Faire, a new Ash show popped up on my "Events" listing on Facebook, and more! Even if it's something I don't know much about, like the Fort Wayne Hobby & Collectibles Show, I want you to at least be aware of it, so you can check it out, if you're in the area! You know, that's how I roll.
So, what's going on for Hoosier Geeks?
Looking at the remainder of September!
September 15th – 17th: RamenCon! Anime convention up in South Bend! I don't normally catch wind of a lot of events in that area, so if you're up there, check it out!
September 24th: Fort Wayne Hobby & Collectibles Show! Looking for toys, collectibles, and other cool things? Check out this show up in Fort Wayne!
September 30th & October 1st – Indy Lightsaber Academy Fight Camp! Were you aware Indianapolis had a Lightsaber Academy? They normally have practice for a few hours on a weekday evening, but now they're offering the opportunity for a high-intensity training session that lasts a weekend! Check out the event page for more info!
October will be here sooner than you think!
Now, what's happening with the blog, the blogger, and friends of the blog?
This Week's Photo: As I mentioned yesterday, It was the first horror film I'd seen in years. Not sure how I felt, going in.
Nuvo Best of Indy Voting: I'm a bit behind on letting everyone know, but the Nuvo Best of Indy nominations are up and running! HOWEVER, it is a new system, and it's set up different from previous years. So, if you'd like to nominate the "IndianaGeeking" account for "Best Twitter Feed", so I can go for second place for the third year in a row, head on over to the link heading this section, and if you don't already have a Nuvo account, create one. Once that account is created, scroll on down to where you see sections in red stating "NOMINATE YOUR FAVES IN…" and you'll find different categories. "Best local Twitter Feed" can be found under "News and Views", on page 3. You have to hit the "Continue" button twice to get there, type in "IndianaGeeking", hit "Continue" once more, verify with a Captcha, and continue again. SUBMITTED! If you're curious, here's who I've been nominating in each category. You can nominate once a day, and it runs through TOMORROW! Thanks!

Shopping – I'm not doing any nominations in this category, because there are too many good shops in town. However, they do FINALLY have a category for "Best local spot to buy/play board games" as well as a "Best local comic book shop", both on Page 2.
Arts and Entertainment – Note: This starts with a "Continue" button, then rolls into a "Submit" button for no discernible reason. Treat Submit as Continue.

Best Local Comedian (page 2) – Rick Garrett
Best local burlesque troupe (page 3) – Angel Burlesque
Best local burlesque performer (page 3) – Katie Angel
Best local author (page 4) – Hans Cummings

Food and Drink – You're on your own, here. 😉
Music and Nightlife – Please, don't nominate the same band in multiple categories (rock, metal, etc)

Best local Rock (page 2) – 5 Year Mission
Best local pop (page 2) – The Shake Ups (no "Beach City" or "Ponyville")
Best local punk/hardcore (page 2) – The Yavin 4
Best new local album (page 3) – The Shake Ups in Beach City
Best new local music video (page 3) – The Shake Ups, "Kindergarten Kid"

News and Views – You're on your own again. This is where Best local Twitter feed is, though!

Shop: If you look to the right hand side, there is a "Shop" link for the blog. Right now, it's just fidget spinners and pins. I'm still working on getting discount codes, and other merchandise, up and good to go. Give it a try, if you'd like, but please, be patient! I'm still testing it!
Do you like how the blog looks? Then check out Studio 27 Indy and TikiKitchen Design. I just write this stuff. They're the ones that make me look good.
Support the Blog: So far, I have podcast hosting, Dropbox, and Adobe Creative Cloud (student subscription, I'm not THAT rich!) covered, thanks to friendly awesome supporters! However, I could still use help, to make sure I have enough for domain name hosting, equipment improvements, and convention tables! I will never turn down Patreon supporters, one-time PayPal donations, folks shopping through the Amazon Affiliate Link, or even folks buying items from the Geeking shop! Check the link for more info!
That's it for this week, as we roll our way through 2017! I'll see you all tomorrow!
Tony