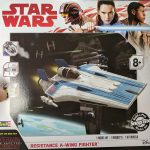 Happy Tuesday, my friends! Here we are, getting to the end of September (okay, it at least feels like it. We've still got a week and a half left), so it's time to start looking ahead at events in November! Holy carp, where is 2017 going? This is probably a good time to remind you that on October 1st, I'll be starting to include the 2018 Hoosier Convention listing to the sidebar! One thing I'll be making sure to add is which shows I'll be tabling at in 2018, as I already have three, with more coming!
So, let's pull out our calendars, take a look at some events, and start getting ready for some stuff! I know I'm really psyched for Shocktober, Kokomo Con, Doctoberfest, and Starbase Indy! But this isn't all we have to offer, not by a long shot!
Looking at the remainder of September!
October will be here sooner than you think!
Next up is November!
Now, what's happening with the blog, the blogger, and friends of the blog?
That's it for this week, as we roll our way through 2017! I'll see you all tomorrow!
Tony