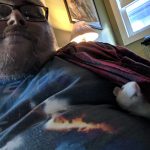 Happy Tuesday, my friends! I hope everybody had a fantastic weekend! I know mine was spent with horror movies with friends on Friday, the Indy Fuel home opener on Saturday (Fuel won!), and then writing, cleaning, and another Star Trek Discovery discussion on Sunday! This coming week, on top of the day job, is going to be an interview for Friday's podcast, plus prepping for Doctoberfest down in Camby on Saturday, and then back to writing and prepping for the end of October/beginning of November on Sunday!
As we're hitting the end of October, we're also starting to take a look at December events. Right now, there's a whole fat lotta nothing going on, in terms of conventions or shows. However, I'm sure this is going to change, as there always seems to be one day toy shows popping up, trying to get some of that holiday gift money!
Now, on with the countdown!
October is almost gone!
October 25th: Pitched Book Signing! Comic Carnival in Indianapolis is now carrying Pitched (Podcast Link)! They will be hosting the creators on October 25th! Check the link for all the details!
October 28th: Doctoberfest! Back for the second year! Doctor Who and Halloween collide at Who North America in Camby, with local crafts people, artists, a pumpkin carving contest, and a Doctor Who costume contest! Shop their selection of Doctor Who merchandise, or visit the vendors! Rachel from The Five-ish Fangirls and I are looking to have a table again, this year! I will have the Geeking pins, patches, magnets, and fidget spinners available again!
October 28th & 29th: Fantasticon! Returning to the Grand Wayne Center in Fort Wayne, this looks to be one of your standard "comic and pop culture" conventions. I haven't had a chance to make it up to visit, I haven't heard any feedback on the show, so I'll tell you it's happening, and I hope you have fun!
Next up is November!
Let's go ahead, and look at the last month of 2017, December!
Nothing, yet! Do you have an event happening? Let me know!
Now, what's happening with the blog, the blogger, and friends of the blog?
Have a great week, and I'll see you soon!
Tony