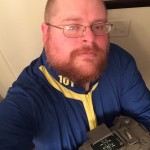 Happy Tuesday, my friends!I hope we all had a fantastic weekend! I know Doctoberfest was fun, though FREEZING! However, it was made very bearable with friends (including my booth partner, Rachel of the Five(ish) Fangirls), and talking to folks about the blog and podcast. Heck, I even sold a few more fidget spinners! Sunday was blog catch-up, and more Star Trek Discovery conversation over on the Indy Pop Con Facebook page.
Now, it is the final Tuesday Tidbits of October, which means we are leading into the final two months of 2017. November is looking to be a pretty full month, with the deadline for advance sale tickets for Starbase Indy, shows almost every weekend, and then comes the month of December with some good stuff! It's starting off kinda slow, now, but I have faith we're going to get some more events popping up as we get deeper into November. Speaking of which…
Tomorrow is November!
Let's go ahead, and look at the last month of 2017, December!
December 2nd: COMIC SHOP signing at Aw Yeah Comics! Dan Gearino is a business reporter out of Columbus, Ohio, who has recently released a book called Comic Shop: The Retail Mavericks Who Gave Us a New Geek Culture. One of the stores featured in the book is Indiana's own Aw Yeah Comics in Muncie, and Dan will be signing copies of his book there from 4PM to 6PM, and then they will be doing a presentation and Q&A afterwards on the second floor of the shop!
December 9th: Bra Wars- A Burlesque Tribute to Star Wars! It's burlesque, with a Star Wars flavor! Featuring performances by The Yavin 4 and Ultra Kombo, two of our local bands who put out Geeky music, this show for Punk Rock Night at the Melody Inn might not be for everyone, especially not kids, but I know some of my readers will want to know!
Now, what's happening with the blog, the blogger, and friends of the blog?
Have a great week, and I'll see you soon!
Tony