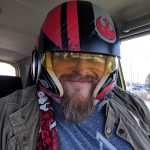 Happy November, my friends! I hope everybody had a fantastic weekend! Mine kicked off with some Star Wars RPG with friends on Friday, dinner with the folks on Saturday, and then Thor Ragnarok, a nap, and then some Star Trek Discourse live-streaming on Sunday with some great people. However, it's also been a constant, literal headache, as temperatures have been fluctuating so badly in the state, but hopefully that'll settle down soon, and I can get focused on some projects!
This week is going to be a lot of cleaning of the Geek Cave, editing Friday's podcast, and starting to prep for some panels at Starbase Indy at the end of the month! Lizz and I picked up our tickets before pre-sales ended on Sunday, so we will be seeing everyone there!
Now, what's going on the rest of the year?
It's now November!
Let's go ahead, and look at the last month of 2017, December!
December 2nd: COMIC SHOP signing at Aw Yeah Comics! Dan Gearino is a business reporter out of Columbus, Ohio, who has recently released a book called Comic Shop: The Retail Mavericks Who Gave Us a New Geek Culture. One of the stores featured in the book is Indiana's own Aw Yeah Comics in Muncie, and Dan will be signing copies of his book there from 4PM to 6PM, and then they will be doing a presentation and Q&A afterwards on the second floor of the shop!
December 9th: Bra Wars- A Burlesque Tribute to Star Wars! It's burlesque, with a Star Wars flavor! Featuring performances by The Yavin 4 and Ultra Kombo, two of our local bands who put out Geeky music, this show for Punk Rock Night at the Melody Inn might not be for everyone, especially not kids, but I know some of my readers will want to know!
Now, what's happening with the blog, the blogger, and friends of the blog?
This Week's Photo: Last week, I was able to pick up the new-ish Black Series Poe Dameron X-Wing Helmet (Affiliate Link). It's a toy, but it's beautiful and it fits on my big ole' noggin, so it makes me very happy.
The Don't Flinch Podcast! This is a new podcast, started by some friends of the blog, that harkens back to the radio dramas from seventy years ago. Their IndieGoGo campaign is to raise money for their show, and be able to turn around and pay for scripts and contributions. Take a look, and give them some help!
Nutmeg Hardcover Edition! Nutmeg is a really fun comic series, with art by local artist Jackie Crofts! This Kickstarter campaign, by Action Lab (who releases the comic) is for a hardcover edition of issues 1 – 6! This is a really cool thing, and something I think many of you might be interested in! Visit and back, before it ends on November 14th!
Support Geeking in Indiana: If you look to the right hand side, there is a support link for the blog. In this link, you'll find information on the following:

NEW MyMerch Shop! Where you can buy Geeking in Indiana t-shirts, hats, mugs, and more! Added bonus: MyMerch is a Hoosier company! #SupportLocal
Geeking Shop! This is where you find the merchandise I keep in stock at the Geek Cave. Pins, magnets, patches, and fidget spinners, while supplies last!
Affiliate Info! Amazon Affiliate Links, mainly, including gift idea affiliate posts.
Other sites! Paypal, Patreon, Ko-Fi, and more!

Do you like how the blog looks? Then check out Studio 27 Indy and TikiKitchen Design. I just write this stuff. They're the ones that make me look good. Also, check out the art page on TikiKitchen Design! There's some great stuff on there! It's TikiBitchin!
Have a great week, and I'll see you soon!
Tony