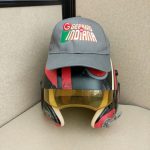 Happy Tuesday, my friends and readers! I hope we all had a fantastic weekend! Mine was spent playing D&D and enjoying the mid-season finale of Star Trek Discovery! I know for a lot of people, it was a very busy weekend, as well, but now everything is starting to settle down on the Geek front, as it's starting to ramp up on the Holiday season! Here on the blog, that also means we are starting to settle down a bit, especially as Lizz and Grant get ready to enter finals season in college. Still, we've got a road map, and we know what's happening, so you can count on us to be here for ya through the holidays!
Some things to keep in mind, though! After Thanksgiving Weekend, as there are no further conventions happening, I'll be archiving the 2017 Convention Listing, leaving the 2018 as the sole listing on the blog. In addition, this feature will be starting to shrink, as there just isn't much happening through the holidays, and into early next year. So, as the calendar is shrinking, look to the bottom of the post, as I'm going to try to get some more local "Geek" news posted, so this isn't a barren wasteland of nothingness!
Now, what's going on the rest of the year?
Not much left in November!
November 18th: Local Comic Shop Day! Many shops around the state are participating in this celebration of your Friendly Local Comic Shop (find the list here)! Exclusive items, sales, and more happen! So, visit them, support local business, and Geek out on some comics!
November 24th – 26th: Starbase Indy! This year, they are not only focusing on Star Trek (with guests like John Billingsly, Robert O'Reilly, and Marc Okrand), but they're also looking at the kind of future Roddenberry envisioned with the show that's lasted over fifty years. You can get more information in Year 3, Episode 10 of the Indiana Geeking Podcast (Link), and it looks to be a good time!
Let's go ahead, and look at the last month of 2017, December!
December 2nd: COMIC SHOP signing at Aw Yeah Comics! Dan Gearino is a business reporter out of Columbus, Ohio, who has recently released a book called Comic Shop: The Retail Mavericks Who Gave Us a New Geek Culture. One of the stores featured in the book is Indiana's own Aw Yeah Comics in Muncie, and Dan will be signing copies of his book there from 4PM to 6PM, and then they will be doing a presentation and Q&A afterwards on the second floor of the shop!
December 5th: Basic Sewing Class! Do you remember my FLS Friday write-up of the local costume shop, Incognito by Aris & Rome (here's a link, if you forgot!)? Well, one of the things I talked to them about were classes on different costuming/cosplay techniques, and one of those basic techniques is sewing! Check out this two hour event, which costs $25 and includes supplies and machines!
December 9th: Bra Wars- A Burlesque Tribute to Star Wars! It's burlesque, with a Star Wars flavor! Featuring performances by The Yavin 4 and Ultra Kombo, two of our local bands who put out Geeky music, this show for Punk Rock Night at the Melody Inn might not be for everyone, especially not kids, but I know some of my readers will want to know!
Now, what's happening with the blog, the blogger, and friends of the blog?
This Week's Photo: Okay, last one of the helmet! This is my fun new helmet, wearing my fun new Geeking in Indiana hat! In reality, though, it's one or the other. Not both.
Support Geeking in Indiana: If you look to the right hand side, there is a support link for the blog. In this link, you'll find information on the following:

NEW MyMerch Shop! Where you can buy Geeking in Indiana t-shirts, hats, mugs, and more! Added bonus: MyMerch is a Hoosier company! #SupportLocal
Geeking Shop! This is where you find the merchandise I keep in stock at the Geek Cave. Pins, magnets, patches, and fidget spinners, while supplies last!
Affiliate Info! Amazon Affiliate Links, mainly, including gift idea affiliate posts.
Other sites! Paypal, Patreon, Ko-Fi, and more!

Do you like how the blog looks? Then check out Studio 27 Indy and TikiKitchen Design. I just write this stuff. They're the ones that make me look good. Also, check out the art page on TikiKitchen Design! There's some great stuff on there! It's TikiBitchin!
Have a great week, and I'll see you soon!
Tony