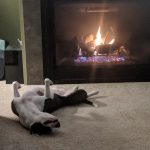 Happy Tuesday, my fellow Geeks! We are back with another installment of Tuesday Tidbits! This week, well honestly, things are winding down. The last con that I know of for 2017 starts on Friday, and then after that, we have just a few things before we roll into 2018, and even then, well, there just isn't much going on thanks to these months being, generally, fairly lousy here in the Hoosier state.
There also isn't much happening with the Geek right now. Trying to get some personal issues taken care of, missing new episodes of Star Trek Discovery, and prepping for this weekend's Starbase Indy where I'll be hosting a panel talking The Orville (originally thought it was Star Trek Discovery, oops!) along with Carl from Indy Pop Con! More info will be in tomorrow's blog post telling you why you should be going to SBI! For now, though, let's give a high-level view on what's going on for Geeks in the Hoosier state!
First, there's not much left in November!
November 24th – 26th: Starbase Indy! This year, they are not only focusing on Star Trek (with guests like John Billingsly, Robert O'Reilly, and Marc Okrand), but they're also looking at the kind of future Roddenberry envisioned with the show that's lasted over fifty years. You can get more information in Year 3, Episode 10 of the Indiana Geeking Podcast (Link), and it looks to be a good time!
Let's go ahead, and look at the last month of 2017, December!
Now, what's happening with the blog, the blogger, and friends of the blog?
This Week's Photo: It's getting cold, gotta love some heat! This was not mid-roll. This pup stayed like that, in front of the fireplace, for about half an hour.
Podcasts & FLS Friday: I've been trying to alternate between a FLS Friday post, and a podcast post, for the last few months. However, with the holidays here, and time drawing short, starting on Friday the 1st, I'll be doing a Friendly Local Shop Friday post every Friday until the 29th, where I'll post the final podcast of 2017. So, that means we'll go with a reminder about supporting your FLS on Black Friday (11/24), shop post (toy store focus) on 12/1, 12/8/ and 12/15, my FLS Year in Review on 12/22, and the Podcast Year in Review on 12/29. Looking at my plan until 2018, it makes the most sense!
Support Geeking in Indiana: If you look to the right hand side, there is a support link for the blog. In this link, you'll find information on the following:

NEW MyMerch Shop! Where you can buy Geeking in Indiana t-shirts, hats, mugs, and more! Added bonus: MyMerch is a Hoosier company! #SupportLocal
Geeking Shop! This is where you find the merchandise I keep in stock at the Geek Cave. Pins, magnets, patches, and fidget spinners, while supplies last!
Affiliate Info! Amazon Affiliate Links, mainly, including gift idea affiliate posts.
Other sites! Paypal, Patreon, Ko-Fi, and more!

Do you like how the blog looks? Then check out Studio 27 Indy and TikiKitchen Design. I just write this stuff. They're the ones that make me look good. Also, check out the art page on TikiKitchen Design! There's some great stuff on there! It's TikiBitchin!
Have a great week, and I'll see you soon!
Tony