T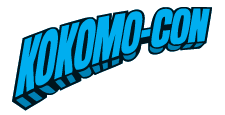 his weekend is the return of one of the grooviest one-day shows in Indiana. Up in Kokomo, in their Event and Conference Center, Kokomo-Con returns for the eighth year of vendors, guests, costumes, and fun! This show is a great time for the Geeks around Kokomo, and I find it well worth the trip up from Indianapolis in order to see friends, shop some cool vendors, and afterwards, visit Geek Street in downtown Kokomo! So, why would you want to head up to Kokomo for the show?
First off, you've got vendors. Everything from local artists, to some of the best toy shops around, to game shops, to comic books. Heck, I know I've seen dealers selling costume parts, I've seen steampunk dealers, I've seen all sorts of cool stuff! This year, I strongly recommend keeping your eyes open for a couple of vendors. First off, friend of the blog Jess, known as Kahahuna in many circles, will be vending! Kahahuna (Etsy Shop Link) does a lot of really great jewelry and art, loves Doctor Who and Overwatch, and is probably going to have at least one Porg piece at the show! Another creator, or pair of creators, to keep your eyes open for are Chris and Gin AT BOOTH 64!! These great people were on the podcast about a month ago (along with Bri!) (LINK) promoting their newest book, Pitched (Affiliate Link)! You want to definitely bring them your monies, and check it out, along with their other fun projects, like Dexter's Digs!
Next, costumes! You see some really cool costumes wandering around the aisles, and they have a costume contest that pulls in a decent group of costumers. In addition, you have appearances by the 501st and Rebel Legion groups, as represented by Star Wars Indiana. I'm sure there will be other groups, like the Indiana Cosplay Association, but I don't keep up with them as well as I do the Star Wars groups.
There will also be gaming, from local shop Kingdom Cards & Games! They'll be holding tournaments for Ticket to Ride and Settlers of Catan, both which are free to play in. However, they will also be doing a Wizard Card Game tournament, with a $10 entry fee (on top of the con entry fee), where the winner will win a 4-Day badge to Gen Con 2018!
Finally, Kokomo-Con will have guests! First, there will be comics writer John Ostrander, who has a list of books to his name that is a mile long, and is the person behind Suicide Squad! Next up is Mary Mitchell, an artist who has done pencils on books like Batman: Gotham Nights! In addition, local illustrator Stuart Sayger will be there, with his artwork! Last, but not least, local creator Paul Allor,  most recently working on Clue for IDW, will be there to talk about his work, and hopefully sell you some autographed comics!
All of this, plus a charity auction, and even more? You want to head on up this Saturday, don't you? Well, if you do, make sure you tell them Geeking in Indiana sent you (seriously, they're doing a contest. Please, tell them I sent you!)! Here's what you need to know!
What is it? Kokomo-Con 2017
Where is it? The Kokomo Event & Conference Center in Kokomo, IN
When is it? October 14th, 2017 from 10:00 AM to 6:00 PM
How much is it? $10.00 at the door, with kids 6 and under free with a paid admission.
Where can you find more information? You can visit their website, and the Facebook page.
I hope to see you there!
Tony