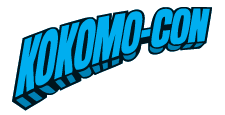 You know, I love one day shows. I don't need to take time off work to attend them, they're normally smaller, so I can see everything without being overwhelmed (try saying THAT about something like Gen Con!), and this also means I can spend more time talking with vendors and creators at their booths, or visit with friends that I've made at many of these shows! I consider us very lucky that one of these shows is happening, this Saturday, up in Kokomo!
That's right, in just a couple days, Kokomo-Con is returning to Kokomo! Held at the Kokomo Event and Conference Center, the show will be running from 10:00 AM to 6:00 PM, so you have plenty of time to see it all, but not enough time to get exhausted! There will be vendors, artists, Star Wars characters, a costume contest (different times for different categories, check link for details), a game room (check link for schedule of games), a charity auction (2:00 PM), and a media guest! This year, Kokomo-Con is proud to be hosting animator Philo Barnhart at the show! He is a veteran animator who has worked on many projects for Disney and other studios, including The Little Mermaid, Beauty and the Beast, The Rescuers Down Under, The Secret of NIMH, The Smurfs, and Jem & The Holograms! This just scratches the surface! He even helped with the video games Dragon's Lair and Space Ace! You'll want to check this out!
I have visited Kokomo-Con for the last few years. In 2014, I did write a Geek Thoughts post on the show, talking about visiting it as a guest. In 2015, there was no write-up, because I attended in my A-Wing Pilot costume and hung out at the Star Wars Indiana most of the day, and didn't attend as a blogger. This year, I will be heading up with Lizz, and we're looking to get costume pictures, talk with vendors, see friends, and generally have a great time at a great little show ran by a groovy guy!
Kokomo-Con is ran by Shawn Hilton, who owns Comics Cubed, the cornerstone of Kokomo's famed "Geek Street." While you're up at the show, I strongly recommend checking out the shop, if he has it open! You'll be able to find out at the show! No matter what, though, Shawn is a great guy, who loves comics and community. The shop regularly raises money, and donates books, to local reading programs, and the charity auction will be done to benefit the Kokomo Humane Society. He's a groovy dude, and I would be remiss if I didn't call him out for all the hard work he does, not just for this show, but for the Geek community, as well!
So, you know you want to go to this, right? Here's what you need to know!
What is it? Kokomo-Con, a one day comic and pop culture show!
Where is it? The Kokomo Event & Conference Center, 1500 N. Reed Rd. Kokomo, IN 46901
When is it? Saturday, October 15th, from 10:00 AM to 6:00 PM
How much is it? $10.00 at the door!
Where can I find information? You can visit the Kokomo-Con website, and you can visit the links in the article above for information on the costume contest, game room, and more!
Will I see you there? I hope so!