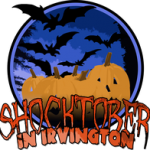 It's the week! We are just a few days away from the 3rd Annual Shocktober in Irvington, hosted by The Obsessive Viewer Podcast! You've heard me talk about this in Tuesday Tidbits for the last month or two, plus you've heard the hosts, The Obsessive Viewer Podcast, talk about it on last week's Indiana Geeking Podcast episode.
What? You haven't listened to it yet? I'll wait.
…
Okay, now that we're caught up, here's what I've got to tell you: Shocktober in Irvington, now in its third year, is a celebration of local horror films, made by local filmmakers, and supporting the historic community of Irvington, on the east side of Indianapolis. This is a unique event, that not only shows short horror films from local creators, but also interviews the creators after their screenings, AND also hosts giveaways of DVDs, Blu Rays, and gift cards to Irvington businesses throughout the evening. Since I'm friends with Matt and Tiny (we are friends, right, guys? Guys? Where are you going!?!), I've seen some of the items they're going to have, and they are really cool! Not going to spoil them, but there is some good stuff there, especially on the horror movie front!
While the event is going to have returning filmmakers, like J.P. Leck, and Billy and Brandon Watch Movies, but I'm really curious about a new fan film from the Circle City Ghostbusters, because I'm always into things that are familiar to me. Even though that's familiar, I'm still also curious about J.P. Leck's "The Roman", as well as what Billy and Brandon Watch Movies brings, and also seeing what else might be happening.
All proceeds from the event will go to the Irvington Historical Society, which also interests me greatly, as I live just outside of Irvington, and enjoy spending time over there. It's a great little part of our community, and anything that helps the community is cool in my book.
While this is my first year in attendance, I know the passion Matt and Tiny have for this, and I'm really excited to not only head over myself, but encourage you all to check it out, as well! So, here's what you need to know!
What is it? Shocktober in Irvington 3, a celebration of local horror films and filmmakers
Where is it? The Irving Theater 5505 E. Washington St. Indianapolis, IN 46219
When is it? Friday, October 14th, from 8:00 PM to 11:00 PM
Where do I get information? Information and tickets can be found on the Shocktober in Irvington website, and you can get more information from the Obsessive Viewer Podcast Facebook Page and Twitter Feed!
Parking? According to discussion from the podcast, there is street parking on East Washington, a small lot behind the theater, and the larger lot across the street, behind Black Acre and Jockamo Pizza.