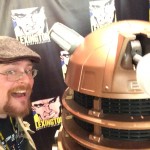 Good day, my friends! I hope everybody had a great weekend! From the sounds of it, Indiana Comic Con really brought their A-Game to Indianapolis this weekend, even though there were still a few bumps along the way. What really matters, at least to me, is that people had a good time, and made good memories, so I'm thankful for that. Me, however, really enjoyed my 4th year at the Lexington Comic and Toy Convention. I saw friends, trolled some TIE Pilots while wearing my A-Wing gear, and have vowed to never set foot in the BlueFire Bar & Grill inside the Hyatt Regency again, after a horrendous dinner experience on Saturday night. However, that did not place a damper on the entire weekend, just Saturday night. Plus, you can't get too upset when you have the opportunity to sneak a selfie with a Dalek!
Also, in case you missed it, I'd like to say "Congrats!" to reader "Kotor21"! He was the winner of the $50 Geeky Pleasures gift card! A huge thanks to everyone that entered, and a doubly huge thanks to Jules for the opportunity to do the give away!
Now, with all of this behind us, let's look ahead to see what's happening the remainder of the month!
First, the rest of March:
Let's also look ahead to April:
Now, after spending the evening with the fine people at the Children's Museum of Indianapolis, I realized I'd been neglecting our awesome local museums, which often times has exhibits with a pop culture and Geeky focus. This is the reasoning for a new section of Tuesday Tidbits, since these exhibits last for months, and it will be easier to put them in their own section than to add them to the monthly schedule! So, let's take a look at what's going on in Hoosier Museums:
Next, let's take a look at opportunities to throw money at people for cool things. First things first, I'm putting all of our local creator's Patreon accounts in a permanent spot on here. For those who don't know, Patreon is an online service that allows the fan of a creator to essentially subscribe to their work. For as little as a dollar a month, you can help support your favorite artists as they attempt to push their boundaries, improve their comics, and even try to make a small bit of a living off of their work. I personally don't have much, but I give a dollar to each of these creators, who I admit are also friends of mine. A dollar doesn't seem like much, but an average Tuesday Tidbit post gets about 70-100 viewers on the first day. If even half of my readers gave a buck, that's 35 to 50 dollars a month, and that's not including the fans of their work who don't know about my blog!
Next, I'm going to go back to keeping other crowdfunding, like Kickstarter, Indie Go Go, and GoFundMe accounts, separate.
Out of Time: Saving the DeLorean Time Machine! Yeah, this isn't local, but I used to hang out with a lot of these guys at my friend Sean's place, back when I was living in California. This is a good group, and this is a GREAT thing they had the opportunity to do, so I want to throw what little weight I have behind them. This is a film talking about the complete restoration of the DeLorean Time Machine from Back To The Future! Take a look at this Kickstarter, and hell, a digital copy of the film is only $10! Jump on it before it ends on April 7!
Help Expand Who North America! Who North America's lease is almost up, and they're looking to expand! As many of you know, WhoNA is an online retailer that's also a hub of Whovian fandom here in Indianapolis. They're looking to get more space, especially for their Doctor Who museum, but they need help raising the funds. Take a look at their Go Fund Me page, and see if you'd like to help!
Finally, what's going on with the blog:
That should be enough for this week! Everybody take care, and have a great week!
Tony