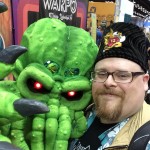 Happy Tuesday! Are we all doing okay? Are we dealing with our post-Gen Con malaise in a healthy fashion? For me, this is involving sorting through interviews, and setting out the blog's game plan for the next month. To give you a teaser for the rest of the week, I'll be having my thoughts on Gen Con, along with my photos, up on Thursday, and then Friday will be the Gen Con episode of the Indiana Geeking podcast, featuring interviews with… well, you'll find out on Friday! Now that Gen Con has passed, however, it is time to look ahead, into this month and September, to see what other joyous Geekishness awaits us!
So, looking ahead into August:
Looking ahead to September:
September 11 – 13: HorrorHound Weekend! Coming back to the Marriott East, this show has a huge list of guests currently. Check out my thoughts on last year's show here!
September 18 – 20: RamenCon! "The tastiest convention in town" is coming to Merrilville! For more information on this anime convention, click their link!
September 25 – 27: Tri-Con! Head down to Evansville this weekend for the multi-fandom convention, Tri-Con! For more information, check out their website!
Now, for events that are longer than a weekend, let's take a look at what's going on in Hoosier Museums:
Children's Museum of Indianapolis

When is it? Now through August 16th! ENDING SOON!!!
What is it? Using Hot Wheels, your family can learn how to create fast, and safe, racing machines! Learn the science behind racing, and check out memorabilia and race gear! Very appropriate for the month of May in Indianapolis! Look for my blog post about it here!

Nickelodeon's Teenage Mutant Ninja Turtles: Secrets of the Sewer!

When is it? Opens on September 26, and runs through April 10th, 2016!
What is it? This is the first museum exhibit featuring everybody's favorite Turtles! Explore the Turtle's lair, and use problem solving and team work to solve puzzles, mazes, and obstacles!
Now, we're going to look at some Kickstarter and Crowdfunding campaigns that I think you'll really enjoy! Note: Unless I specify, a link is not to be considered an endorsement. A link merely means the campaign is a Hoosier-based campaign that I believe my readers would be interested in.
Invisibility Blues: Exploring Race in Video Games! I was digging through Kickstarters in Indiana, and this one caught my eye. Take a look, and if it catches yours, make sure to jump on before it ends on August 8th!
Hipster: The Card Game! Knowing some of my readers, I thought you might be interested in this, as well! Take a look before it ends on August 10th!
Ninja Camp! "A fast paced, family-friendly tactical card game for 2-4 ninja campers that plays in 30 mins or less." Camp lets out on August 18th.
Last Front: The Strategy Card Game! "Capture territories, gain bonuses and burn your opponents in this fast-paced high stakes card game set in WWII!" Campaign ends on September 8th!
The Keystone-Monon Community Garden! This isn't my normal "Geeky" fundraiser I like to push, but as you all know, I like to support my friends. Sara Croft, of Solid Gold Eats, has been busy helping start a community garden at Arsenal Park. They have received some grants from the city of Indianapolis, but they can use more help. Please take a look, and give, if you can.
Next, let's take a look at opportunities to throw money at people for cool things. First things first, I'm putting all of our local creator's Patreon accounts in a permanent spot on here. For those who don't know, Patreon is an online service that allows the fan of a creator to essentially subscribe to their work. For as little as a dollar a month, you can help support your favorite artists as they attempt to push their boundaries, improve their comics, and even try to make a small bit of a living off of their work. I personally don't have much, but I give a dollar to each of these creators, who I admit are also friends of mine. A dollar doesn't seem like much, but an average Tuesday Tidbit post gets about 70-100 viewers on the first day. If even half of my readers gave a buck, that's 35 to 50 dollars a month, and that's not including the fans of their work who don't know about my blog!
Finally, what's going on with the blog:
That should be enough for this week! Everybody take care, and have a great week!
Tony