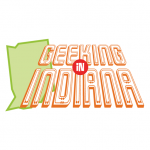 Recently, I've seen some new folks following the blog, and on Social Media. Whether this is from social media, or business cards, or people clicking the wrong link in a Google search, I'm just thrilled that folks are finding my site, and finding it useful. As I was looking at this increase in blog readership, I starting thinking about how I hadn't updated this post for about two years, and 400 posts, and I wanted to put some fresh, updated information about what this blog is about. So, for new and old alike, here's what the deal is with Geeking in Indiana!
Who am I?
Greetings! My name is Tony Troxell, and I grew up watching "Star Wars" and 80's cartoons. I became a full-blown fanboy in the early 90's, with "Star Trek", and tapered off into more of a general Geek by the new millennium. I have worked many jobs associated with Geekery over the past twenty years, including comic book shops, video game stores, costume shops, Disneyland attractions, and even a brief stint in Hollywood in practical effects. I have been blogging off and on, talking about Geek stuff, since 2010. This started during a short stint in Southern California with "Geeking in SoCal". It was mainly used to document comic, toy, gaming, and hobby shops that I found as I was looking for work. This provided a nice diversion, however since I couldn't find work, it was abandoned when I moved back to Indiana in May of 2010. Since I was back in the homeland, I decided to go ahead and continue with this concept. I thought it would be something useful to folks, because I KNOW I'm not the only person who, when in a new area, pulls out a phone book and checks to see if there are any comic shops nearby. I thought a site like this would be cool, so if people were in the area for a convention, they'd be able to see what was nearby.
Then I found a job.
This put a screeching halt on being able to check out local shops, especially when combined with increasing gas prices.
This lead to the blog in its current, still ever-evolving form. I started gaining readers and friends, who had suggestions and recommendations. While selfishly, this is my blog, I still want it to be useful and for others to read it, so I've listened to suggestions (except for those who tell me to stop blogging).
The Evolution
Since I ran my first post in June of 2010, this blog has been constantly evolving. For the first three to four years, it's was solely my responsibility, then Team Geeking started forming. While I can't pay writers, I've had friends and readers ask if they could write for the blog, either sporadically or as a regular writer. The first of these was Michelle Blanton, who helped with write ups on Who North America, Anime Crossroads, and some of our older lists of cool items. Then, Bri Rudd joined for a well-received stint as our Wednesday Comics writer, as well as co-host on the Indiana Geeking Podcast, before moving on to focus on her own work. Samantha Kyle also threw some posts at me during this time, with some interesting works on "My Little Pony", and finding that elusive collectible. Most recently, we have Grant Howerton, who has been killing it over the last few months in the Media Monday category. In addition to the writers, I've had some fantastic creative folks working on the site. Spencer Sokol, from Studio 27 Indy, keeps the website running smoothly, and fixes things when I bork them up, and hosts the site for me, as well. Aric Harris, from Tikikitchen Design, has come up with the color scheme, the site logo, the podcast logo, the business card design, and the upcoming banner that will be used at convention tables. If you have a site you need work done on, I whole heartedly recommend both of these gentlemen!
Through 2015, I was focused on putting new content out every weekday. That content could be a blog post, or a podcast. However, in the current year of 2016, this is just not feasible. However, I'm still pushing to have decent, almost-quality content for people to read on a semi-regular basis. What kind of content, you might ask?
The Content
Team Geeking currently consists of students, and sometimes things like essays, midterms, and finals happen. Until I can get enough going that this becomes a reliable source of income (ha!), this is a hobby that has to take a back seat to real life from time to time. However, one can hope to see posts like these with regularity:
Media Monday – Formerly known as "Movie Monday" post, these are currently written by Grant Howerton. Over the years, these have covered movies, television, books, music, and even musicals.
Tuesday Tidbits – One of my more popular posts. These run every Tuesday on my blog, and are broken down into three categories. Events, which covers different events in Indiana of Geeky interest, like conventions, shows, store openings, and just things I think are cool. Crowdsourcing and Kickstarter campaigns, which tend to be 98% Hoosier-based. What can I say? I'm a local blogger, and I'm into local stuff. Finally, we have blog news, where I talk about things that affect the blog, or just little vignettes that I want to put out there, but aren't worth a full blog post.
Geek Thoughts – These are my reviews, since I don't just want to title something "Item Review". This is where I put my thoughts on products that I've either purchased or received for review, event follow-up posts, or just my thoughts on getting back into various parts of the hobby, like gaming, costuming, and model building.
Geek Soapbox – Every once in a while, I decide to try to make a point on the blog. The Geek Soapbox is just that.
Convention Promotion – This happens every once in a while. Sometimes it's a local show that I want to see succeed, other times it's a larger show, giving me press passes, and I want to see them succeed so they will continue to give me press passes.
If you're looking around for certain items, there are a few options for you. First, I'm working on getting better with my tags on the blog. Second, there is the "Category" search which is available as a drop-down menu to the right. Finally, there is the "BUT WAIT! THERE'S MORE!" section, which has different pages with information. These pages, as they currently sit, are:
#FeedABlogger – This is how you can support Geeking in Indiana. Affiliate information, blog posts of affiliate shopping lists, and more can be found here.
2016 Hoosier Conventions – Just what it says. This is where you can find information on Geek and Fandom conventions happening in Indiana.
Awesome Supporters – This is where I list people who have donated to Geeking in Indiana, supported the blog through Patreon, and purchased items from the blog's wish list. I know it's not much, but I do what I can to show my appreciation.
Costume Initiative – I'm getting back into costuming (I'm too old to call it cosplay), and this is my listing of what I want to build/buy, and where I'll put any tutorials I develop in the process.
Find Your Friendly Local Shop Here! – As it says, this is where you can find any of the local shops I've written about. Organized alphabetically by city.
Geek Building – Much like the Costume Initiative page, this is where I am writing about my efforts in getting back into model and prop replica building. Currently, the focus is on pieces I already own, though new items will be to enhance costumes from the Costume Initiative page.
Support Local Creators – This is a list of Patreon pages for local creators, and friends of the blog. A dollar a month can help them out so much!
The Indiana Geeking Podcast – This is a listing of all episodes, with a brief synopsis of each.
Philosophy
"If you have nothing nice to say, then don't say anything at all." There is a lot of negativity on the internet. I mean, a LOT. The recent events with gamers and comic folks are just cementing this as fact. However, I try not to subscribe to that. While I do everything I can to be truthful and honest in my writing, I don't see the need to point out everything wrong with something, and instead would rather focus on what is right. For example, you can choose to dwell on the fact that "Star Wars: The Phantom Menace" introduced us to Jar Jar Binks, or you can choose to realize that it gave us some really cool lightsaber props, like Obi Wan's! That one was just sweet!
Another thing I've enjoyed seeing happen since I started Geeking in Indiana is more of a sense of community. Indiana in general, and Indianapolis in particular, has become a great hub of Geekiness in the Midwest. I've met many awesome Geeks out here, some of which are just fans at conventions, or really enthusiastic business owners. However, I also have some fellow bloggers and podcasters that I read and love. Folks like Pure Geekery, or the Established Facts podcast, or the Obsessive Viewer podcast are great local folks, and that's just scratching the surface!
Conclusion
No matter how you found your way to our charming little corner of the Internet, I thank you for sticking around, and I welcome you. Feel free to interact with me, either on Social Media (use those little icons on the top right!) or via the comments! Please feel free to chime in if you ever have any thoughts or suggestions, but know that trolling and hatefulness will never be tolerated on this blog, and those comments will be deleted as soon as possible.
Live long and prosper, may the force be with you, and don't panic!
Tony Troxell