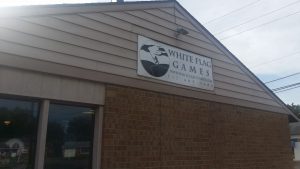 Indiana is a great hub of gaming awesomeness. We are bringing in gaming retailers from around the world, we are the host of the Best Four Days in Gaming, more and more games are being developed by Hoosiers, and we have a slew of gaming conventions and shops in towns both large and small. Some of these stores have been around for years, and some have started popping up more recently. In the six years I've ran Geeking, I've noticed an outstanding trend in many of these new stores: they're looking to not only cover bills, but also try to build a community. They don't want arguments over which game is better, they don't want to exclude, they just want a great place to play games. A few years ago, Mooresville received one of these shops, White Flag Games.
White Flag Games opened in 2014 as more of an open clubhouse. The owners (Joe, Scott, Nathan, and Chris) noticed their gaming group had outgrown their homes, and were looking for a place to play. This evolved into a game store, selling games and snacks to keep the doors open, and letting them not only play in comfort with their friends, but also bring in new people, make new friends, and have a good gaming place in town. They found a good location, with room for everything they want to do and plenty of parking, and they opened their shop. Now, two years later, they have plenty of open gaming space, they have an "overflow" room for more tables which also contains a projector for fun movie nights, they have a good snacking setup, and of course, they sell games.
White Flag focuses mainly on board games. Sure, they have gamers that come in to play Magic: The Gathering, or Warhammer, but their stock is mainly board and casual games. They do have card game packs and singles at the counter, but nowhere did I see any X-Wing or Armada miniatures, with the exception of the core sets on the shelves. This is because they prefer to special order for their customers, and they will give 10% off orders on almost everything, as a thanks for waiting. In addition, as a "Thanks!" for shopping, all of their board games are 5% off, automatically. It's on the price tag! In addition, they also buy and sell used board games, and they have a good selection of those, as well, by the front counter!
While White Flag is a game shop that's more of a hobby for the owners, all of whom have day jobs, it is still a cool place. Lizz and I were greeted when we entered, not only by the staff, but also folks playing Magic in the gaming area. It is open, clean, and friendly. If you're near Mooresville, and you're looking for a Friendly Local Game Shop, I can't recommend this crew enough! They definitely fill the criteria well!
Here's what you need to know:
Who are they? White Flag Games
Where are they? 410 N. Monroe St. Suite 26 Mooresville, IN 46158
What are they? Your friendly local game shop!
What is their parking situation? They are located in a strip mall, so there is plenty of parking in the lot around their store.
When are they open? They are open on Tuesday, Wednesday, and Thursday from 10:00 AM to 9:00 PM, Friday and Saturday from 10:00 AM to 10:00 PM, and Sunday from 12:00 PM to 6:00 PM
What is their phone number, in case I get lost and need directions? 317.483.3400
This slideshow requires JavaScript.