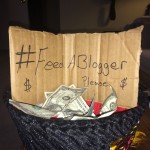 Everything old is new again, right? Last week, I wrote about my powerful need for some new recording equipment (especially since I have a recording coming up with four guests!). This has lead me to thinking, I know I have done wish lists in the past, filled with items I've found which looked cool, and sometimes would lead back to affiliate links to get some pennies thrown to me on Amazon. So, I'm going to start putting more focus on these "Wish List Wednesday" posts!
In the past, I've done link posts on everything from Geeking in the Outdoors, to X-Wing Miniatures, to helping your pets get their Geek on (man, the Geek Cat was so small). Moving forward, I'm probably going to update many of the old posts to start off with. I've done little posts like this for so long, many items are no longer available, or they were off of sites using an old Affiliate program that never gave me any money, so I cancelled my membership. Once that is done, I'm going to start finding new things to write about. What does the Geekling really enjoy? What equipment works well with podcasting? However, I'm not going full-on with the affiliates.
There are cool things made here in Indiana that I might want to tell you about, as well, and those will go under the Wish List Wednesday posts, as well. If you remember my Eclective post, there were a lot of cool items made by locals there, which I think I want to purchase, use, and tell you what I think (remember the comic book flasks?). There are local clothing companies who make some terrific Geek shirts. Heck, I might do a wish list of some of my favorite local beers! I know I have some beer geeks that follow this blog, right?
Now, of course, this won't be every week. Heck, it's not even going to start next week, since I'll have the next episode of the Indiana Geeking Podcast up on Wednesday! However, those weeks that don't have a blog post (or, if I ever figure out why Premiere hates me, a YouTube video!), I will have some cool ideas for yourselves, or the Geeks in your life, up here.
So, is there anything you think you would want me to look into? Beer-based board games? Charcuterie Challenge Collectible Card Games?
Okay, if that doesn't exist, someone needs to make it…
Seriously, shout out ideas down in the comments!
Tony