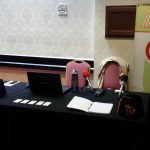 Hey there, friends! There's some really cool stuff happening on the local convention scene, and I wanted to give you all a quick update on what's happening! I wrote about this approximately a month ago (link), and since then I've talked to some convention organizers, seen announcements come out, and I wanted to bring you all up to date on some of the cool stuff happening!
First off, let's look at Indy PopCon! Since I last wrote about them, they have had more guest announcements, including Greg Grunberg (Heroes, Star Wars: The Force Awakens, Star Trek Beyond), Matt Ryan (Constantine), Johnny Yong Bosch (Power Rangers), and a TON of YouTubers! Check out their website for the full list (link)! In addition to more guest announcements, they have thrown volunteer information up on their site, they have announced the really cool "Twisted Toonz" event which involves voice actors reading a script using different voices, and they have even announced that one of the booth's will have a PokeStop attached, for those who are playing Pokemon Go! In completely unrelated booth news, I finally got off my butt and paid for my Internet Alley table for this years show, which caused whoever was updating their FaceBook page to poke at me a little bit, and gained me 20 followers on the FaceBook Geeking Page. Hi, folks!
Moving down the calendar, there was a couple of big announcements from Gen Con this year. First off, is a kick-off concert at Banker's Life Fieldhouse, with They Might Be Giants! Plus, even bigger news is that they are expanding into even more of Lucas Oil Stadium this year! They are going to be moving the game library over there, as well as having an exhibit honoring 50 years of Gen Con, right on the field! This will include a "homage construction of Lake Geneva's Horticultural Hall", which was the site of the first Gen Con in 1967. Finally, it's also time to name the official Sun King Beer of Gen Con! You can find the information at this link!
Looking down to Bloomington, the Indiana Toy and Comic Expo has been busy announcing some of their vendors and guests over on their Instagram Feed (link). Some of the announcements include local creator Kyle Starks (Sexcastle, Rock Candy Mountain), Pixel Dan (YouTube), Nerd Therapy (YouTube), Matthew Skillern (COMIC), and more! You can get more information on their website, located at this link!
Finally, Starbase Indy has announced they will be back on Thanksgiving weekend this year, from November 24th through the 26th! This year, they are not only looking to be a great locally-run Star Trek convention, but they are also looking to help encourage the future envisioned by the show by including STEM speakers, holding workshops on maths, sciences, and building, and they will have more stuff planned by the time the show rolls around in November! In addition, local band Five Year Mission will have their new album, Year 4, at the show, and will be doing a live show with music from it! Get more information, and see how you can help, at this link!
Are you looking forward to any of these shows? What else are you looking forward to here in Indiana? Give us a shout in the comments!
Tony