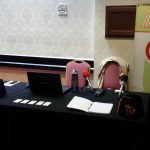 Convention season is starting here in the Hoosier state! Every year, I post a listing of conventions, and then I feel like I forget about them until a a couple of months before the show, when they get thrown in to Tuesday Tidbits, then I talk about them again the week before as a "Things to Do" article. Well, I was pondering my writing, and things I haven't touched on, and I realized that many of the cons are around the corner, and those that are still a bit farther off still have been putting some good announcements out. So, today, let's talk about some of the announcements made for the larger upcoming shows, talk about some of the fan run shows that are shaping up to be good, and look at my revised plans for attending shows!
First, our homegrown hometown show, Indy PopCon, has been busy announcing guests on their weekly "Con Job" YouTube series. This all kicked off with a live-stream on Twitch (covered here), and has continued over on their YouTube channel (located here). Over the past few weeks, they have announced guests like Curtis Armstrong (actor, Revenge of the Nerds), Robert Carradine (actor, Revenge of the Nerds), Joe Corroney (artist, Star Wars, Star Trek, Doctor Who), Troy Baker (voice actor, Uncharted, Bioshock), Jess Harnell, (voice actor, Animaniacs & lead vocals, Rock Sugar), Charlet Chung (voice actress, Overwatch), Jonny Cruz (voice actor, Overwatch), along with others I probably have missed! In addition, they have announced that they are the hosts of this year's Indy Podcast Awards, they talk about upcoming live appearances, and they run contests for free badges! So, check out the YouTube channel, and keep up to date!
While it's still a way off, the fiftieth Gen Con is coming up, and they have made some great announcements! While they are not a locally-ran show, they are incredibly supportive of the local community, do charity work for area groups, and are just really good visitors to the city of Indianapolis, and I am more than happy to give them my support! One of the ways they support our community is by choosing a charity partner to support, every year. For their fiftieth Gen Con, they have chosen Child Advocates to be their Official Charity Partner! They will receive a donation from the money raised through the charity auction, the balloon sculpture building/destruction, and the building/destruction of Cardhalla! In addition, Gen Con is once again partnering with Sun King Brewing for the official beer, which this year will be a Belgian-Style Golden Ale. Other announcements that have come through my mailbox have included Donato Giancola as the Artist Guest of Honor, new awards for their Film Festival, and the "Dance through the Ages" theme for the Saturday night dance, which will feature a "journey through time and music"! As I am once again a member of the press for Gen Con, I'll be posting periodic updates, leading up to the Best Four Days in Gaming!
Now, while those are the bigger conventions happening, Indiana is no stranger to the smaller show! The current listing of events on Tuesday Tidbits aside, we have some cool smaller shows coming up! For instance, InConJunction currently has pre-registration tickets until May 15th for $40, and they have a guest list that currently includes author Mercedes Lackey, actress/singer/songwriter/screenwriter/director/producer Shonna Bedford, artist Larry Dixon, and more! The Indiana Toy & Comic Expo isn't until late August, but they're already out of tables for their show, and they've been making social media announcements via the #ITCE2017 hashtag on Social Media! Plus, there's a whole listing of shows available on the website!
Didn't you know Geeking in Indiana had a convention listing? Look over to the right (unless you're on mobile, then scroll down to the bottom!) and look for the 2017 Hoosier Conventions listing (or, I guess, click this link right here!) and start marking your calendars!
I'll see you at the shows!
Tony