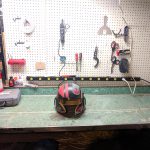 Late last year, you might remember me talking about how I'm going to be spending more time building in the future, and less time writing. Well, during the time I've taken off, in between holidays and sickness and taxes and new hire orientation, I've started acquiring pieces for my first costume, and I've been working on cleaning out my work space.
See, the "Geek Cave" is a hundred year old house on the near East side of Indianapolis. It sadly does not have a garage, but it does have an unfinished basement! In this basement, next to a hatch leading to the old cistern that supposedly does not have an evil clown sealed up in it, is a work corner. Work bench, peg board, shelves, the full nine yards. I've used it for quick little projects in the past, but as this year is the year I'm looking to actually follow through with a lot of projects and plans, Lizz and I started cleaning up the basement, and kicked it off with clearing out this corner. There is still work to be done, tools and materials to be moved, but it's enough to star work on my first project.
As you can see from the image above, and the images below, it's a simple space. I haven't filled the pegboard yet, everything is just kinda haphazardly placed around until I start working, and figure out the best places to put things. I have shelving to my left, where I can put things I'm working on, but don't immediately belong on the workbench, so they are handy when I need them. This will be really nice when I'm working on a resin, or 3D printed kit where I have a piece that I have finished putting body filler on and I'm waiting for it to dry. I just move it over to that shelf, pull another piece that's ready, and my work area is nice and clear of things I'm not messing with!
Behind me, before you hit the coal cellar (the Geek Cave was built a hundred years ago!), I have some shorter shelves. This is my "To Do" list. This is where I'm laying out my half-finished resin kits. My banged up helmets that need fixed. My 3D printed toys that need sanding, and body filler, and more sanding. This is what I'm working on emptying out.
I'm sure you can see what my first project on the workbench is, but I'm not going to talk about that right now. I want to do some actual work with it before putting too much up on the blog. However, I'll be diving deep into it this weekend, and I've been taking pictures, so keep an eye on the galleries on the bottom of these posts, and I'll probably start putting things into the blog's photo albums again, when I remember where they are!
I'm horrible at this.
Now, I could focus on what I don't have, but I'm done with that. Instead, I'm looking at this little corner in this musty basement as a place to start creating things, other than words or audio, again. Plus, this is just the start. Over the course of 2018, I'm going to start showing you what's coming out of this work space, as well as the other work spaces I'm setting up in the Geek Cave. Sure, it's things that other people might have already done, but dang it, this is my stuff, and I'm proud of getting started again, and gaining some momentum.
Enjoy the pics below, and I'll see you all tomorrow!
This slideshow requires JavaScript.