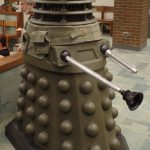 On Saturday, Who North America was going to hold the "All Things Handmade" Craft Show, focusing on people who create their own crafts. Well, due to incoming bad weather, this show has been cancelled, and therefor today's blog post about it being a thing to do has also been cancelled! Instead, today I'm doing a post for those who were going to vend at this show, and also have an Etsy store, or another online presence where you can purchase the wares they had worked so hard to prepare for the show!
So, it's not so much a Friendly Local Shop Friday, nor is it a Follow Friday. It's more of a, "Hey! Check out their stuff online, because Indiana won't stay dry enough to let us have nice things!" Friday. So, I've pulled the listing from their Facebook event page, and I'm looking for those folks online. If I can find them, I'll throw you their information here! I know, it's not much, but I wanted to try to help in some way, so here we go!
Note: It is actually very difficult to find artists based on a name alone. I'm trying to find everyone on Etsy, Google, and Bing, and trying to add "Indianapolis", "Indy", and "Doctor Who" to the searches, but out of the dozen listed, I'm only able to find these. Sorry!
Kahahuna – Jess, known as Kahahuna in social media and Etsy circles, is fantastic. Despite following each other on Twitter for a few years, we finally met last year at Indy Pop Con. I own some of her work, I have given some of her work as gifts, and I am going to continue to purchase her work. If you visit the link, you too can purchase her work, especially the Doctor Who work she made especially for this show! BONUS: Now through June 10th, use promo code RAINEDOUT for twenty percent (20%) off your purchase!
Made by Miller – Now, this person I don't know as well, but this link will bring you to their website, where they have cool items for your office or kitchen, plus wax melts and artisan soaps. The item which caught my eye was a wooden drink coaster, made to look like a pallet! Check the stuff out at the link!
Autie Zombie Girl – Handcrafted capes, masks, and princess crowns are the name of the game for this local seller! The seller wants you to be the "superhero that only you can be", which I'm completely down with! So, click on their link, and check them out!
Obscure Links – Finally, we have Obscure Links. This is another seller that I'm familiar with, thanks to social media and last year's Doctoberfest, and I really need to throw money at them for some Geeky dice bags! Take a look, and see if anything meets your Geeky needs!
As I said, I'm sorry I can't list more of the vendors that were supposed to be there, but for the life of me, I couldn't find their work online, or they told me they didn't have any work online, and were doing stuff specifically for this event!
Anyway, go visit these folks, give them some love, and give them some money!
I'll see you all next week!
Tony