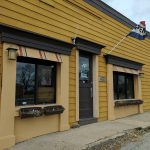 I really enjoy toy stores, and as you can tell, Indianapolis is not short of their fair share. We have shops that focus on Funko Pops, shops that have a bit of everything, and today we have a shop that focuses on the collectible aspect of collectible toys. Located in the southwest corner of Indy, just off Kentucky Ave. on Maywood Rd., is the home of AP Collectibles.
I first met Aaron of AP Collectibles as he was running a booth at conventions, as well as running some toy shows. Most recently, he's been part of the group that puts on Midwest Toy Fest. A while ago, he used to do all of his business at either conventions or online, shipping out of a warehouse one building over from Who North America. He would occasionally host open houses where people could come in and pick stuff up at their location, instead of online. After a bit, he realized he's spending most of his time at his warehouse, so he went and opened up a shop, not too far from his old warehouse.
In his shop, Aaron not only runs his online business and prepares for setting up at conventions, which he closes the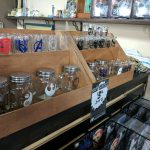 shop for almost every weekend throughout the year. He also works on his vinyl cutter, making decals that he sells, not only on their own but also on glassware such as mugs, wine glasses, and shot glasses. He also sells really cool stuff. One wall is full of Hot Wheels, he has shelves full of Sideshow Toys and Hot Toys 12" figures, and cases full of statues, old figures, and open vehicle toys. He also has action figures, and a smattering of odds and ends, but the main draw is the higher end pieces. The shop isn't huge, though Aaron said there is a slight possibility of expansion in the future, but it is well stocked and fun to go through, even with Jar Jar looking over you. One piece I was happy to find was a little plastic Enterprise D from Star Trek Generations, which is now on my desk.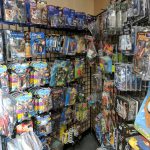 Now, I might be a bit biased, but I always enjoy talking with Aaron. He knows a lot about what's happening in the local convention scene, he is knowledgeable about his product, and toys in general, and he likes to talk about them. When I stopped in this week, he was telling me how happy he was that he was completing his collection of John Tyler Christopher comic book variant covers! We also discussed local and regional shows, Star Wars Celebration, Hot Toys figures, and why, if the droid was called R5-D4, Luke refered to it as an R2 unit. For those wondering, I figure it's a mixture of Luke being a farmboy who didn't know any better, as well as nobody thought anyone would notice! Now, of course, your mileage will vary a bit, but I've never seen him be rude to anyone at a convention, or have poor service in any way. Good people, good service, good work!
The only downside I see to AP Collectibles is their store hours. While the online store never closes, their store front is only open on weekdays. While this makes sense, as they're at conventions almost every weekend out of the year, it made it difficult for me to actually make it over and visit them! However, if you have a weekday off, they are worth the drive to check out!
Here's what you need to know, if you wish to do so:
Who are they? AP Collectibles
Where are they? 2908 Maywood Rd. Indianapolis, IN 46241
What are they? A Friendly Local Toy Shop
What is their parking situation? There are a few spots in front of the store, on Maywood, as well as a parking lot on the south end of the building.
When are they open? Monday through Friday, 11:00 AM to 6:00 PM, closed Saturday and Sunday
What is their phone number, in case I get lost and need directions? 317.837.9875
Just kidding on the phone number. Internet! Where are they online? As I said, they have an online storefront, as well as a Twitter Feed and a Facebook page, where they post updates on what they have in stock.
This slideshow requires JavaScript.