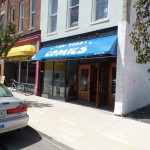 Travel north from Indianapolis on Interstate 69, and you come across Muncie, Indiana. This town, home of Jim Davis & Garfield, the Knights of the Dinner Table, and where David Letterman pursued higher education, is also home to a great little comic book shop downtown. Aw Yeah Comics recently opened in a new location in downtown Muncie, between Dan's Downtown Records and Savages, and it's even better than the old location. More spacious, open, and deeper, it is a great shop with personality, and they're still making improvements!
Aw Yeah Comics is managed by Christina Blanch, who has not only written comics, but taught them on the college level, and loves the medium. She has put together a staff that strives to run a very open, welcoming shop. They are willing to answer the questions of new readers, help folks out who are shopping for friends or family, and talk comics, provided there isn't a long line at the counter, with anyone. They have a sitting area in the back, near the kid's comic area, where you can relax and take a look at that book you just picked up. Upstairs, they have back issues, dollar comics, variant covers, and a section for gaming. They also have a movie screen, for movie nights! They are striving to make this the go-to destination for comic books in Delaware County, and they are on the right path.
Not only do they have a great atmosphere, but they also have an outstanding selection of comics and collectibles. Their New Release and Recent Release racks are packed with great comics, they have an impressive selection of trades and graphic novels, and their collectible selection, from Star Wars to comic books to Doctor Who, is impressive. Most impressive. Plus, they have the aforementioned kids area, as well as a small selection of games and gaming accessories. They mentioned to me that they don't carry too much, or worry about things like Monday Night Magic, due to their proximity to other stores that have a larger focus.
Finally, they have a tendency to bring in some awesome people for book signings. Many of you might recall when Bri was able to interview Amy Chu for Wednesday Comics? They have signings like this once every couple of months, sometimes even every couple of weeks! I know I had the pleasure of meeting Alex de Campi, Michael Moreci, and Steve Horton there on Free Comic Book Day, and they have also had Jackie Crofts and Brian K. Vaughn in their new location, with more coming!
Aw Yeah Comics in Muncie isn't just a great shop for locals, it's really becoming a destination shop for everybody. They had people drive in from Ohio for the Brian K. Vaughn signing, for crying out loud! My friends, you want to go and check out this shop, geek with them a bit, throw your money at them, and enjoy the good vibes.
Here's what you need to know:
Who are they? Aw Yeah Comics!
Where are they? 107 North High St. Muncie, IN 47305
What are they? Your friendly local comic shop!
When are they open? They are open on Tuesday and Saturday from 11:00 AM to 6:00 PM, Wednesday through Friday from 11:00 AM to 7:00 PM, Sunday from 12:00 PM to 4:00 PM, and closed Monday.
What is their phone number, in case I get lost and need directions? 765.282.5297
Just kidding on the phone number! Internet! Where are they online? You can find the store's site on the Aw Yeah Comics home page, and you can also follow their Twitter Feed, and like them on Facebook.
This slideshow requires JavaScript.