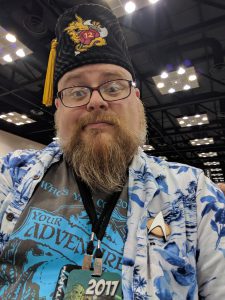 Happy Friday, folks! I know, normally by now I'd have my thoughts on Indy PopCon up, but it's been a heck of a week, and I'm still finding myself having a hard time expressing my thoughts and feelings in a blog post. Heck, I still haven't been able to express them in a podcast, YouTube video, or even interpretive dance. So, instead, today I'm going to close out this week with a little bit of this, and a little bit of that, concerning upcoming shows and events that may, or may not, be on your radar.
So, not Gen Con.
Indiana Toy and Comic Expo
Happening the Sunday after Gen Con, this is a great little show down in Bloomington! Running from August 27th from 9:00 AM to 4:00 PM, it is held in the Bloomington Convention Center. I'll have more information as a "Things to Do" post the week before it comes up, but I want to make sure everyone has it on their calendars! There's going to be some great local creators there, from artists and writers to costumers and toy customizers, along with a goodly amount of toy vendors for all of your action figure needs! I know I'm going to be taking the trip down, through the gawds-awful mess that is the commute to Bloomington, for this show, and I think you all will find it worthwhile, as well! As I said, more info coming soon, but in the meantime, get those calendars marked, and check out this link for information on the show!
Shocktober in Irvington
Returning for its fourth year, Shocktober in Irvington is a great way to kick off the Halloween month, in one of the best places around Indianapolis to celebrate it! Held at the Irving Theater, Shocktober is an evening of short horror films, discussions with the film makers, and giveaways, all sponsored by the fantastic folks over at the Obsessive Viewer podcast! I spoke to them about their 'cast, and last years event, on the podcast last October (link), and I'm planning to do more with them this year! While you wait for that, though, make sure you have Friday, October 6th from 8:00 PM to 11:00 PM marked on your calendars, and get your advance tickets through Eventbrite at the link here!
Starbase Indy
This is the show that I really used to attend when I was first getting into Geekdom, and I feel a certain love towards it, and want to see it be well received! Held at the Wyndham West Hotel in Indianapolis, on Thanksgiving Weekend, they have traditionally been a Star Trek convention, but this year they're also looking at promoting the ideals of Star Trek, and not just the show itself! Promising to have a great mix of science fiction, through guests and vendors, and science fact, with a focus on STEM and panels, it is a fantastic way to rewind after spending a holiday with your family, and hearing political rants (which this Geek does not endorse! FOCUS ON THE TURKEY! WHY IS IT DRY?)! Oh, also, just a little thing… FIVE YEAR MISSION WILL BE RELEASING YEAR FOUR!!!
I'll be there. Click this link for more information!
2018 Convention Calendar
Finally, I wanted to let everyone know that, in September, I'll add the 2018 Convention Calendar to the links at the top right of the blog. If you have a show that needs to be added, please drop me an email at HeadGeek@indianageeking.com so I can get you on there!
I'll see you all next week, where we will talk about Indy PopCon, TeenCon, and start looking ahead to Gen Con and beyond!
Tony