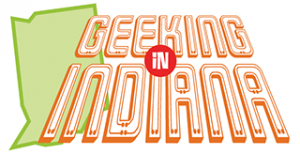 Back in 2010, I was struggling to find work in Southern California, and started a blog as a way to keep my mind occupied, despite never having done anything like it before. The purpose of the blog was to document all of these little hole-in-the-wall Geeky shops I was finding as I was pounding the pavement looking for work. When the work didn't materialize, I moved back to Indiana and continued the blog here. Over the course of the last eight years, it has grown into much more. It has helped foster new friendships. It has gained a bit of local recognition. Heck, it's scored me free Gen Con tickets. It has grown past being a hobby, into a second almost full-time job.
It's time to admit that I can't keep this up any more, and I need to take a break. I've tried dialing back to three blog posts a week, with a bi-weekly podcast, but even then, I can't keep up with everything. I'm working a job that's currently 50 hours a week, and it'll go up to 60 before too long. I have a partner who is up to her eyeballs in getting her Masters in Social Work, on top of working a full-time job, so between the two of us burning the candle at both ends, not much else is getting done.
I hate to say it, but it's time to get selfish.
I need to focus on my health, which I can't do when I'm spending twelve to fourteen hours on a computer every day. I need to lower my stress, which means doing things that make me happy. I need to spend time with my interests again, and not just the interests pertaining to a blog. I have a puppet to build, and learn how to use. I have costumes to make. I still have not completed Fallout 4 or Mass Effect: Andromeda. I have books to read. I have coloring books to color. On top of all that, and most importantly, I have a family to spend time with. The way the blog has grown, and the expectations that have been put on it, mainly by me, do not allow me to do that.
Moving forward (you know, until I change my mind again), the only thing that will be consistent will be the Tuesday Tidbits posts. There are a lot of people that depend on those, and they are consistently one of my most-read posts every week. However, as a weekly format, it's mainly rehashing a lot of the same information over and over again. So, I will be putting those out every two weeks, with edits thrown in for last minute events, if needed. Past there, if Grant wants to write something? Up it goes! If Lizz wants to take a break from her schoolwork to type up five hundred words on something, bam! It's going up. I'm still going to be doing stuff as well, but it's not going to be scheduled, or on a timetable. I'm hoping this will allow me to focus on quality even further (remember the post about the podcast?), and it's going to cause me to drop a lot of the alliteration I've been using. For instance, say I take a trip up to Fort Wayne, and I visit six shops while I'm up there, and I want to include them in my shop listings. I'm not going to take six Fridays to post them up. Instead, after I've written the post, I'm going to get them put up, and added to the shop page. Same with the podcast. When/if I get the chance to sit down with someone cool, I will then take the time, edit it properly, make sure the sound levels are good across the board, and only then post it up. And trust me, after I wrote the first draft of this post, I got three cool recordings added to the calendar!
Over the last few years, I've noticed that I've become less of a "daily" reader, and more of a repository for information. The convention listings, the shop pages, the Tuesday Tidbits, those are what have been working. Common knowledge says that if you start slowing down, if you don't post consistently, that's when you lose readers and/or listeners. Well, I've already lost those readers, and I don't have the time or energy to gain them back. So, instead, I'm going to keep everything where it is, and when I have time, add new content, new things for people to find, to it. In addition, I have a lot of clean-up work to do, especially with posts written back when I was on Blogger. Those posts need images reattached, and reformatted.
On top of everything, I'm also taking a break from Twitter. I'm completely burned out on people jumping in on someone posting about something they love, and then crapping all over it. I'm tired of politics. I'm tired of how the world is filtered through there. So, if you haven't noticed, the Twitter account has been labeled as being for scheduled tweets for the blog posts only, and I haven't really done much past there. Twitter has been deleted from my phone for over a week, with just the occasional check-in to check direct messages using my mobile browser. Guess I'm not going for a 4th year getting nominated for the "Best of Indy", huh?
I have three conventions I'm tabling at this year, but otherwise I'm starting to break from the cons, as well, for a bit.
Finally, when it comes to the funding, I'm keeping almost everything running. While I'm dialing back to "hobby" level, I still don't mind a hand paying for domain names, podcast hosting, and so on. In my update to my Patrons last Sunday, I told them I'd understand if anyone dropped it, because 98% of the "perks" are going away. Patreon will have a $1 level, that includes the listing on the Supporters page, and a shout-out on the podcast, whenever I post a new episode. That's it. Donations will still come through PayPal and Ko-fi, I'm keeping AdSense and Amazon, and I'm still working on selling through the merch I have, and trying to get folks to buy the merch available, to make room in the Geek Cave and also get some money for some other items. I'm hoping to have a new pair of pins at Indy PopCon, for example, with a portion of the sales going to charity!
I'm not disappearing, totally. I'm just trying to fade into the background a bit more. For my health, for my happiness, for me.
Thanks, everyone. I'll see you soon.
Tony Troxell
Head Geek, Geeking in Indiana