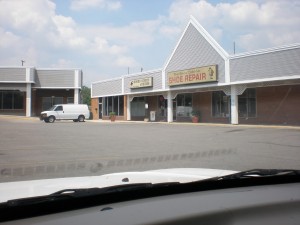 Name:


Books Comics & Things
Address:
5936 W. Jefferson Blvd.
Fort Wayne, IN 46804
Phone Number:


(260) 755-2425
Hours  of Operation:


Monday and Tuesday
10:30 AM – 6:00 PM
Wednesday through Friday
10:30 AM – 9:00 PM
Saturday
10:30 AM – 6:00 PM
Sunday
12:00 PM – 5:00 PM
One of the great things about deciding to do this blog is getting an excuse to drive somewhere I normally don't go, to try to find a store or a convention that I have never been to before. However, one of the most stressful things about doing this blog is driving somewhere I normally don't go, and trying to find a place I have never been to before. Nobody likes driving behind that "tourist" that's doing 5 miles below speed limit, looking around at different store fronts trying to find a particular address. I ESPECIALLY don't like being that "tourist" trying to do this, but sometimes it just can't be avoided.
With this in mind, as I started heading up to Fort Wayne, I did everything I could to avoid this. I looked at the map of the area and plotted my course, since the GeekTruck isn't exactly the most fuel efficient truck out there. I made sure I had addresses for all locations, and my trusty Motorola Cliq with Google Maps and GPS, along with a car charger because that GPS sucks down battery power quicker than the Geek Explorer can suck down a Full Throttle. However, even with all the equipment, some locations are hard to find, but worth the effort.
The Books, Comics & Things location at Time Corners definitely fits in that category. Tucked away behind an auto parts store, in a spot not easily seen from Jefferson Blvd, it took me 10 minutes of driving around the various strip malls in the area to find it. FYI, it's behind the O'Reilly Auto Parts, right across from the entrance to the Chase Bank drive through.
After parking and walking in, I smiled. The entire center of the shop is filled with back issues. Long boxes of back issues. In my travels of shops in Southern California and Indiana, it seems a lot of stores have been backing off the back issues, focusing on more current releases and the occasional "classic" that they stumble upon, but not this place. On the right hand side are the new release books, which at the end of a holiday weekend were a little light, and a well stocked section of books for kids. They also have some display cases of collectibles, but nothing really high end. Good stuff, no mistake, but not statues or high end collectibles. I kept eyeballing the "My Other Car Is The Batmobile" for the GeekTruck, but I was able to resist its pull. Farther back in the store lie the graphic novels, and the comic book action figures. They had an impressive collection of both in stock. I was interested to see that they had a blister packed bust of Venom from Marvel. I had never seen those before, and I always enjoy seeing newness like that.
In the rear of the store was what looked like a stockroom with the wall facing the store removed. This was the gaming section. Shelves of game books and board games, game tables set up in the middle, it was the solid gaming section that seems to thankfully be a part of any decent comic and games shop these days. Plus, the gaming supplies continued down the other side of the store, with the miniature packs, more source books, and dice up towards the front by the counter. For those interested, dice were sold in both singles and in sets.
The woman who was behind the counter was very friendly and helpful. When I mentioned I was looking for a book for my daughter, she helped me dig through the kids section to try to find at least one of the titles I was looking for. And by helped, I mean she went directly to the box and the section where she found the book for me. I love it when a shopkeep knows their store, and does more than points vaguely in the direction of an item!
From the affordable collectibles, to the $1 Comic section, from the gaming section to the dice selection, Books, Comics & Things seems to be well set to make sure that the geeks in Fort Wayne will have a good selection of shops to spend their hard earn coin. Stop in, check them out. Just remember to be patient when you're trying to find them!
Live long and prosper,
The Geek Explorer