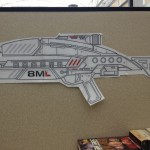 Hello there, my friends! Today, I'm doing an update to my Costume Initiative: 2014 post from a few weeks ago. While there honestly hasn't been much traction in terms of creation, I did want to touch on a few things, to keep myself on track, since let's face the fact that 2014 will be here before we know it, and the first convention I'm planning on suiting up for is only 3 months into 2014. Plus, this is not including my first "unofficial" costume that I'm hoping to do by Gen Con in just a few weeks. In fact, let's start there.
"Tony's Metal Bikini"
I know I've been pushing this rather hard, but the time is coming up for this. I'm going to be an optimist and start working on it this weekend, as a matter of fact. DISCLAIMER: The "metal bikini" is NOT going to be metal, but rather paper mache and paint. However, I till consider myself a craftsman, so it's going to be a dang good looking "metal" bikini, although I'm probably not the best looking model for it. The deadline for this is coming up fast, though, so if you haven't already, please donate on my GoFundMe page for this!
Mass Effect "N7" Armor & M8 Rifle
This is the one that is going to be the hardest for me, not having ANY experience with the medium of "foam floor mats" in the construction of either costumes, or props. However, I'm getting a lot of good information and templates from around the internet, I've found a message board dedicated to the costume, and a couple of great "Here's how I made my rifle" websites like this one that showed his rifle being made out of medium density fiberboard (MDF) which I'm almost tempted to use instead of foam. The rifle is going to be my first focus, after I'm done blowing money on Gen Con.
Star Wars "X-Wing Pilot"
Honestly, if I wanted to take the expensive, easy way out, this would be the easiest. I can go to a half dozen people, throw money at them, and get finished parts for everything from the flight suit, to the helmet, to everything. However, I am a craftsman, and I'm poor. With this in mind, I'm going to build what I can, get kits for things I can't build, and only get the flight suit as a completed piece, because my sewing skills leave much to be desired. This is the next costume in line, after I am done with the Mass Effect stuff, or if I need a break from looking at that reference material.
Star Trek Enterprise Jumpsuit
This is the next costume in line, and the one I'm going to have the most difficulty with. I don't own a sewing machine, and even if I did, I can't sew. I can probably teach myself if I had one (Feel free to contact me if you have one you wish to donate to the cause!), but since I don't, I'm not quite sure what I'm going to do yet. However, where there is a will, there is a way, and once I hit 225 lbs. I'm going to put some focus into finding that way.
Fallout "Vault Dweller"
This one shouldn't be that bad, but it's rather far down on my list. I'm planning on finding patterns, and building a laser rifle, and modifying a blue set of work coveralls for the jumpsuit, but I still need to save up for a good "Pip Boy" kits, probably from one of the builders on the RPF. I find no shame in building from kits, because at least I'm building something, and not just buying a completed piece. This is actually fairly low on my list, but I'm still hoping to have the base done by Gen Con in 2014.
The Extras
All of these costumes require supplies: A Dremel, sewing machine, sandpaper, body filler, raw materials like wood, plastic, and foam, kits, and so on. The hardest part of this project is going to be coming up with said supplies, as this stuff can only be purchased with spare money, or funds raised from this site. Honestly, this site raises about $.65 a month from ads, so that's just not going to be in the cards. However, I'm going to see what I can pull off. When it comes to "the look," I've been trying to eat healthier the last few weeks. Since I have a pulled tendon, or a sprain, or something in my right foot, exercise has not been in the cards, as walking and standing is a literal pain, but I'm still down 8 lbs, which is a start. However, I have a long way to go! After all…
I have to look good in the bikini in a few weeks!
Tony