Makerspaces are a big deal. While prices on equipment like 3D Printers, laser cutters, and other equipment has come down pretty significantly, your average hobby builder, costumer, or prop replicator probably doesn't have a full shop in their basement, or in a pole barn by their house. A maker space is outstanding, because for a nominal (or, depending on the space, not-so-nominal) fee, you have access to all matter of tools, as well as fellow Makers to help you with your project, and to just generally Geek out with.
This past weekend, Club Cyberia, a makerspace and not-for-profit on the east side of Indianapolis, held an open house. As we were out on "blog business" that day, we decided to drop in and take a look at their operation. First things first, it's located in an industrial area/storage facility on 30th St., just off Shadeland. Despite there being a sign by the road, we accidentally passed it the first time we went, and had to turn around. Once there, it was fairly busy, and parking by the side entrance, used to enter the complex, was pretty full. However, we found a spot, and found our way into the building. As we walked down the long hallway, we noticed that Club Cyberia is actually split into two rooms, with a workshop near the door where we entered, and the Maker Space down at the far end of the hall. So, we made our way down to the room that didn't have spinning machines that required protective eyewear, and joined a tour of the facilities.
The Maker Space, where we started, is the "clean" room. It's the room that doesn't have anything that involves a huge mess happening in it. This room contains a multitude of 3D Printers, including a beautiful piece from Hoosier-based See Me CNC, a vinyl cutter, crafting supplies, electronics equipment, a library, and a PC with an Oculus Rift attached for members to use. This room is also used for the robotics clubs they run for area schools, the costuming group they host for local cosplayers, and for their new model train club. There were also tables, chairs, and couches for people to sit around and talk on, and it was a pretty decent space, complete with a soda machine (with soda labeled in an… interesting fashion). This room was well supplied, and after looking around and talking a bit, we were brought down to the workshop.
Despite having earned a barely passing grade in middle school Industrial Arts (though, I did make a pretty solid bookshelf and table lamp), most of the equipment in the workshop were pieces I didn't have much familiarity with. Sure, I recognized the drill presses, the band saws, and the anvil, but items like the laser cutter, or the 3D Router, were both well outside my familiarity. Suffice to say, they have a good amount of equipment, with new pieces being introduced all the time. They have wood working tools, metal working tools, a storage area above their server room and office area, and a lot of really cool things happening, like a gentleman who was working on his own R2 unit.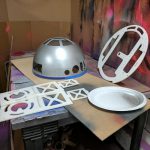 Everyone I met there was friendly, including my friend and local photographer Greg Chaney, who happened to be there when we got there, as well as a longtime Twitter follower, who I FINALLY got the chance to meet, David Norris, who's the president of Club Cyberia. I got the feeling from everyone I talked to that this is definitely a place to get work done, help each other out (as needed, or requested) and share knowledge and skills. I was told they were looking to expand their space into an old church, that can be accessed through the Maker Space room, that will give them small rooms for people to rent out, as well as a stage and meeting space for organizational meetings, and future educational programs. Plus, it would give them a better entrance for the facilities, as opposed to the side entrance that is shared with a dance studio and a church.
If something like Club Cyberia sounds like your cup of tea, then there are some things you need to know. First, it requires a membership to take advantage of what they have to offer. If you don't have a membership, you can see if you know someone who is a member and visit as a guest, with limited access. No matter what level you look at, though, it's still cheaper than trying to buy all of the available equipment yourself. So, if you're interested, here's what you need to know:
Who are they? Club Cyberia
Where are they? 6800 E. 30th St. Indianapolis, IN 46219
What are they? A non-profit makerspace
Where can I get more information? You can visit their website, which has all of the membership information. You can visit their Facebook page where they also post events like their Costume & Prop Club, their Knife Building classes, and more. You can also follow their Twitter feed because hey, Twitter!
If you live in the Indianapolis area, especially near the east side, this looks to be a great place for builders, tinkerers, costumers, prop builders, hobbyists, and those just looking to make something. I have a few pictures from the space below, and you can see even more on the links provided above.
Take a look, and a huge thanks to Club Cyberia for being so welcoming, and hosting a keen open house!
This slideshow requires JavaScript.