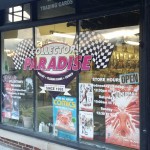 If you've ever driven down East Washington Street, through Irvington, you might have seen this window before. Upon first glance, it looks like it's a racing collectible store, although the comic book posters show that they might have another focus. I know the first time I passed by them, way back in 2010, I was discouraged from going in due to this graphic. However, over the last few years, as I've met more and more fellow Geeks, I've had ones ask me why I hadn't visited them, yet. Well, whenever I was in Irvington, I tried, but those days always seemed to land on a Monday or a Tuesday. Those are days Collector's Paradise are closed! Curse my luck! However, I was in the area this past weekend, and all was right in the world when I realized they were open! This enabled me to pop in, wander about, introduce myself, and talk a bit about the shop.
Collector's Paradise opened up about 9 years ago on the main strip of Irvington. They are a solid, straight forward purveyor of comic books of both new and old varieties, collectibles, action figures, trading cards, and yes, even some racing memorabilia. They have all the amenities of a good, classic shop, with racks of new issues, long boxes of old issues, trade paperbacks, toys, sets of trading cards, statues, a selection of Starfleet ships, and a small selection of Magic: The Gathering cards. As I said, they also carry a small selection of racing memorabilia, mainly NASCAR, but once you walk into the shop, you can tell that's not what their sole focus is.
The woman behind the counter said the store was ran by her, her husband, and their son. Their main focus is comic books, and they do offer a pull service to their customers. Books are normally out by Wednesday afternoon, and they have based their hours off of what has traditionally worked in that area. Personally, I can't blame them, because I always though there should be a retail weekend on Monday and Tuesday because those days are so dead!
In all honesty, if you are in the Irvington area, especially if you're grabbing a pizza at Jockomo's, or grabbing a pint at Black Acre, you should drop in and pick up some good reading material. Just, please, save that Excelsior toy ship for me!
So, in review:
Who are they? Collector's Paradise
Where are they? 5618 East Washington Street Indianapolis, IN 46219
What are they? Friendly Local Comic Shop
What are their hours? Monday and Tuesday, Closed. Wednesday through Friday, 12:30 PM to 7:00 PM, Saturday 10:00 AM to 7:00 PM, Sunday 12:30 PM to 5:00 PM.
What is their phone number, in case I get lost? (317) 357-2291
Where can I find them online? Like them on Facebook!