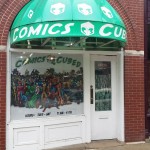 For another week, we have another shop in beautiful downtown Kokomo! As I was up visiting KokomoCon, I was informed of the location of the show's owner, Comics Cubed, and it was in the neighborhood of some other shops I was visiting! With fortune smiling upon me, although the sun wasn't, I was able to pop in to their fine store and check it out! Sadly, none of the photos I took inside the shop came out, because my phone is a phone so I can't blame it for failing me, but that just gives me an excuse to jump back up and say hi again! Plus, to be honest, they were coming off the tail end of what looked to be a HUGELY successful sale they had tied to the convention, so the shelves were a bit more empty than usual, something the gentleman behind the counter apologized for.
First, let's start with the gentleman behind the counter. He was very talkative, very friendly, and my little brother and I had a good conversation while shopping around and taking pictures. This made me feel good about the place, as the days of the "Comic Book Shop Guy" are days best left in the past, or on The Simpsons.  A friendly face behind the counter makes any shop more welcoming, and this one was very welcoming.
Comics Cubed is a compact shop, with everything a comic reader in Kokomo would want. They don't have a huge toy or game selection, like many shops I've been to, but you also have to be aware that they are on the same block as Kokomo Toys and Goblin Games, so that would be rather counter intuitive to what I feel is a community. However, they do have books. Comic books. New releases, back issues, trade paperbacks, I could tell they normally have a good selection when a killer sale didn't have happy convention attendees swarming their store like a plague of locusts!
Comics Cubed looks to be a great place to get your read on in Kokomo, and I know my visit has it definitely labeled as a Friendly Local Comic Shop.
So, you want to visit? You should! Here's what you need to know:
Who are they? Comics Cubed
What are they? Your Groovy Local Comic Shop
Where are they? 121 E. Sycamore St. Kokomo, IN 46901
What are their hours? Tuesday through Saturday, 11:00 AM to 6:00 PM, Closed Sunday and Monday
What is their phone number, if I get lost? 765-450-4126
How can I find them online? You can visit either their Facebook page, or check out their Twitter feed!
Check them out!
Tony