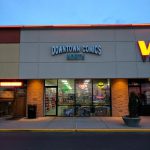 When you think of comic book shops in Indianapolis, I can bet that Downtown Comics is one that is one of the first ones that pop up in your mind. Entering the Indianapolis market in 1993, they have cemented themselves into a family-friendly, welcoming place to get your books, collectibles, and even games. Over the past twenty plus years, they have paid attention to their customers, grown, and evolved to keep up with the changing market, as well as renovating their stores to keep them clean and fresh. Indianapolis has three locations, and today we're looking at the one by Castleton Square Mall.
Downtown Comics is located on E. 86th Street, behind Castleton Square Mall. They're conveniently located beside an Outback Steakhouse, so you can get books, then get a steak and a bloomin' onion! Seriously, though, they're easy to find, and it's normally easy to find parking for them. Walking in the store, it is well-lit and open, with comic books along three quarters of the walls, before you hit the register area and a small section of collectibles. They have displays for more collectibles, as well as kids books, trade paperbacks, and back issues through the center of the shop, but never does it feel crowded. In fact, even during Free Comic Book Day, their busiest day of the year, I've never felt cramped, or crowded, in their store. Their selection is fantastic, as well, with books from almost every publisher you can think of on their shelves, and a strong selection of trade paperbacks and graphic novels around the store. They also have a small selection of toys and collectibles, but that's not their real bread and butter.
When it comes to service, I've never had a bad experience in there. On my previous blog post about this store, I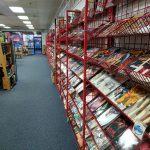 mentioned how I had never had the stereotypical "Comic Book Guy" experience here. Not once has there been any passive-aggressive comments about my choices of reading material. Not once have I seen a customer ignored, or talked down to, because they don't fit the stereotypical look of someone who visits a comic book shop. It doesn't matter how slow it is, how busy it is, or who is working, I get greeted, I have my questions answered cheerfully, and I'm rung up with good conversation as I'm checking out. Even last night, I had a great visit as I picked up a book for Lizz, and ended up talking about the differences in experiences visiting comic shops that we all experience. As I said, not once have I seen a bad experience happen here.
If you're looking for a friendly local comic shop near Castleton, you really won't go wrong with Downtown Comics. It's great for everyone from the hardcore fan, down to the family whose kids are psyched about the Marvel films, and want to read comics featuring Iron Man, or Black Widow, or the Guardians of the Galaxy.
Here's what you need to know to get your comic book on:
Who are they? Downtown Comics
Where are they? 5676 E. 86th St. Indianapolis, IN 46250, by Castleton Square Mall
What are they? A Friendly Local Comic Shop
What is their parking situation? They are in a strip mall, so plenty of parking.
When are they open? Monday through Saturday from 11:00 AM to 8:00 PM, Sunday from 12:00 PM to 5:00 PM
What is their phone number, in case I get lost and need directions? 317.845.9991
Just kidding on the phone number! Internet! Where can I find them online? You can visit the Downtown Comics website, their Facebook page, and keep an eye on their Twitter feed.
This slideshow requires JavaScript.