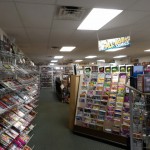 One thing I commonly hear about a certain comic store chain that has locations on the west side, and on the north, is "Hey, they aren't downtown!" Yeah, well, guess what, Chuckles? Downtown Comics DOES have a store downtown, and it's right off Monument Circle! As an added bonus, it's right around the corner from Rocket Fizz, as well, but we aren't here to talk about sugary treats and every flavor of bottled soda! We're here to talk about where to get your four color fix, and if you work or reside downtown, this is a great place to do it!
This location is packed with comics, collectibles, games, and a personable staff. Every time I've popped in, Bridget has been working the counter. If you're not familiar with who Bridget is, she does the comics vlogs over at Nuvo.net, and she knows her stuff. She is also friendly, and able to help you find whatever your looking for.
Downtown Comics carries a great selection of books, has access to back issues, and has a good selection of trade paperbacks. They have displays of kids books, and a good display of books that have been turned into movies. Down one wall, they also have a board game selection that, while it's not threatening the sales of any of the dedicated game shops in town, still gives some good choices for the residents of downtown Indianapolis, or folks just heading downtown. Plus, they have a good selection of small comic book-related toys and collectibles, which make good gifts for yourself, or your friends and family.
Like their north side and west side locations, Downtown Comics Monument Circle is a great location for comic book fans, as well as just Geeks heading down for one of our many conventions. It's easily within walking distance of the convention center. So, if you're so inclined, here is the information you need to check it out:
Who are they? Downtown Comics – Monument Circle
Where are they? 11 East Market Street Indianapolis, IN 46204
What are they? Your friendly local comic shop!
When are they open? They are open Monday through Friday, 10:00 AM to 6:00 PM, and then Saturday and Sunday from 11:00 AM to 4:00 PM.
What is their phone number, in case I get lost and need directions? 317.237.0397
Just kidding on the phone number! Internet! Where are they online? You can find the store's site on the Downtown Comics Home Page, and you can also follow their Twitter Feed, and like them on Facebook.