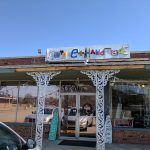 Traditionally, I check out the standard fare for friendly local shops. Stores that carry comic books, games, hobby supplies, and toys are normally my "go to" sorts of joints. However, every now and then, I catch wind of some cool little joint that would fit my readership fairly well. Sometimes it's a bar that encourages gaming, or a store full of Doctor Who merchandise. Today, it's a shop with a combination of both older off-the-shelf items, and cool handcrafted items offered by local creators!
I first heard of the Eclective earlier this year, and had a chance to drop in back in late January, and they were starting work on The Geekery. The Eclective is just what it sounds like: an eclectic mix of items from local artisans. They have everything from old furniture, to jewelry, to handmade soap, to glassware, to much, much more. Just this past weekend, I had the opportunity to visit again, and check out their newest addition, The Geekery!
Located in its own room at The Eclective, The Geeky is an eclectic (there's that word again!) collection of handcrafted items, old games, vinyl, and comic books. Here, you can find knit caps, old board games, steampunk sock monkeys, comic books, super hero themed dream catchers, art work, books from local authors, flasks adorned with comic book art…
Flasks. Adorned. With. Comic. Book. Art.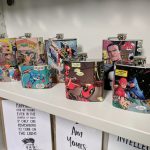 They have a lot of really great, locally produced stuff. The sort of thing you would normally find on Etsy, that you would look at and wish you could pick up and check the quality of. Lucky for you, here you can! You can check to see if the strap on the Wonder Woman shoulder bag is long enough. You can see how well stitched your sock monkey is going to be. It's a great location, and the cool part is, it's ran by great people.
Both times I went in, I saw people being helped as much, or as little, as they'd like. When I had a chance to stop in, I had the chance to speak with the owners, who are not only looking to make this a great, welcoming shop, but also a place where people can enjoy themselves. They are booking signings by local authors, they are hosting craft nights, and they are also looking at the possibility of game nights, and maybe even pulling out some older games that don't have organized play at any other stores in Indianapolis, or even central Indiana. The one I spent probably the most time talking with, Raphael, definitely has a soft spot for the same games that I do, and I've told him that when they start putting some of these plans together, to let me know so I can start throwing them out on Tuesday Tidbits!
So, locally made Geek crafts and art, comics, vinyl… where do you find this treasure trove?
Who are they? The Eclective ft. The Geekery
Where are they? 2915 S. Meridian Ave. Indianapolis, IN 46225
What are they? A Friendly Local Handmade Item Shop
What is their parking situation? Decent amount of parking on their own lot
When are they open? Tuesday through Friday from 11:00 AM to 7:00 PM PM, Saturday and Sunday from 12:00 PM to 5:00 PM, closed Monday
What is their phone number, in case I get lost and need directions? 317.572.7467
Just kidding on the phone number! Internet! Where can I find them online? You can visit their website, follow their Facebook page, read their Twitter feed, and check out their Instagram feed!
This slideshow requires JavaScript.