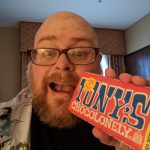 So, last July, I told myself I wasn't going to do these too often. Well, as I sit here, staring at social media at 9:45 PM on Thursday night, I know I want to get something out. I have a lotta little things I want to bring up, but I don't have enough to do a full post on any of them. This means it's time for another Finger Food Friday!
The Indiana Geeking Podcast
Just a quick notice that I have not forgotten about the podcast! I'm trying to get my act together, and I'm getting interviews lined up! I have so many people expressing interest in talking to me, and I just need to start lining up dates, sitting down with the recorder, and getting to editing! I'm looking to return with new episodes on April 6th! Which leads me to the next bit…
Support the Blog
Some of the recordings I am setting up look to be able to take advantage of the ability to record using six microphones on my Zoom H6! However, in order to do that, I need to buy an adapter to add two more XLR inputs, plus some more cables, and another microphone! This takes money, if I want to do this! So, this is my reminder to all of you that I have merchandise available through the My Merch Shop (LINK), as well as merchandise available through my own Geeking shop (LINK). If you're looking to donate, then you can use the PayPal link (over on the sidebar, or bottom if you're on mobile), become a Patron (LINK), or even buy me a "coffee" using a $3 donation on Ko-fi (LINK)! Not only will this help with recording equipment, but it's going to help with the booth set up for Indy Pop Con this year! Which rolls into…
2018 Convention Appearances
With life being as it is, as my job is kicking my butt with its hours, and Lizz burning the candle at both ends with her job, and working on her Masters Degree, I'm having to dial back on my conventions this year. Currently, this is the list of conventions I'm planning on attending, and how:
Indy Pop Con – I will be returning with a table in their Internet Alley section, and I'm hoping to be close to my friends at The Obsessive Viewer and The Nerds You're Looking For. I'm looking to have a new banner, I'm hoping to display some of the projects I've been working on, and I still have a bunch of pins and fidget spinners available and I'll be having good deals on those, as well as two NEW designs by Lee Cherolis, with money from each design going to EARPS! Look for more details coming in late May!
Teen Con – This is the small library show in New Castle, which is my home town! This is the show's 4th year, and it will be my third tabling, and I'm hoping to have information about blogging, podcasting, and social media available for any of the folks who are curious!
Gen Con – Lizz and I have achieved press passes this year, and she REALLY enjoyed doing an interview for the podcast in 2017, so look for us to have a lot of content coming out of the show this year! Plus, she's really into trying out new games, so we should have more of that this year, as well!
Indiana Toy and Comic Expo – I'll be heading down to Bloomington, to be part of their Podcaster Programming this year! I'll be joining some great podcasts with info tables, as well as sitting on a podcasting panel!
These aren't the only shows I'm hitting. In addition, I'll probably be doing something with InConJunction and Starbase Indy, and I await the return of Midwest Toy Fest. Of course, you can find info on all of these shows on the Convention Listing page, here on the blog.
It's now 11PM, and it's way past my bedtime! I'll see you all next week, when I should FINALLY have my write up for the JoCo Cruise up!
Thank you all for sticking with me, and have a fantastic weekend!
Tony