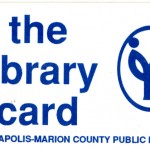 Yesterday, I spoke to how much money it costs to run the blog, and how I'm looking to get some money in. Well, today I decided to take a different track, and tell you all how you can get your Geeking in while saving some money. This is not going to be a regular column on the blog, as much as I'd like it to be. However, I know we all like the opportunity to expand our Geeky horizons, but sometimes don't have the money to look into something new. That is why I'm going to remind everybody about their friendly local library today.
Wait, did I say library?
I know a lot of people know how awesome libraries are, but I'm constantly surprised by the number of friends I have who don't give them a second thought. I admit, there was a long while there where I didn't have a library card, despite having been a heavy user of the New Castle Henry County Public Library (where I now participate in Teen Con) back in the day. Over the past few years, however, I've been a huge fan of the Indianapolis Marion County Public Library system, and it's not just because of their convenient locations, and their outstanding Central Library. No, it's what else they have, and I fear I'm only going to scratch the surface.
First, they have digital offerings. Lately, I've talked to friends about audio books, and they bring up Audacity. You know what you can do if you don't have money for Audacity? You can use the Overdrive application and listen to audio books from the library! So far this week, I've listened to the novelization of Star Wars: The Force Awakens, and I'm now listening to Armada by Ernest Cline, read by Wil Wheaton. I have a half a dozen books on deck, and my ears are happy.
In addition to audiobooks, they carry ebooks! This is something I don't take advantage of, myself, but to my knowledge they have formats that work on most e-readers, and I have seen the offering as I search for audio books, and they have a really good selection available! I was actually going to try to test this out for today's blog post, but I, ah, seem to have misplaced my Nook, since I haven't had time to read anything other than a textbook since 2015.
Another item I really enjoy is the Freegal music selection. Lately, I've been talking with friends and social media followers concerning recommendations for a capella groups, and many of the recommendations can be found on Freegal! This allows me to stream an album to see if it's to my taste, as well as get five free digital, DRM-free downloads a week that you can keep, so you can also help expand your music collection in that way. Of course, they don't have everything, but I know I've been able to find some albums I haven't been able to get the CDs for, so that's made me happy.
I know they also have other services available, like streaming video, but I haven't had much opportunity to look into them that closely. This is on top of all the other services the library offers, like computer labs, books, CDs, movies, magazines, graphic novels, and assistance from awesome librarians.
Now, my experiences are based on the Indianapolis Marion County library. I know other libraries offer different services. For example, when I lived in Southern California, the library near me also offered video games that you could check out with your library card! So friends, definitely check out your local library to see what they offer!