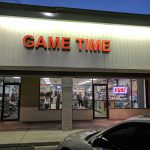 I used to be crazy, and live in the Castleton area. Geek Cave 1.0 was a small apartment at Avery Point, off Craig Rd, just east of the mall. One thing I learned fairly was that I could walk from my apartment, cut across an office park, and use a pass-through in a fence by the old Burlington Coat Factory to walk to the (now closed) Target, or Sam Ash, or any of those shops. One day, as I was walking to Target for, I dunno, toilet paper or something, I noticed a new store across Center Run Dr  from me, and I was intrigued as I wondered whether it was a used video game store, or a tabletop gaming store. So, one of the early stores I had the opportunity to check out was Game Time, which was fairly well stocked with a definite focus on Magic: The Gathering on that initial visit. However, life pulled me from that area, and I wasn't able to visit for a bit. With my new focus on updating my FLS Friday posts, I decided that I really needed to go in and say hi, so I dropped in this past week to check them out again. So, how have the past few years treated them?
I'd say fairly well.
Walking in on a Thursday night, their gaming area was full of players getting ready for some Legacy format Magic: The Gathering, and the gentlemen behind the counter were busting their humps, greeting everyone who came in, collecting tourney fees, and selling cards and sodas. Money was being exchanged, and people were laughing and talking, all of which are good signs that a shop is doing okay! As I was starting to look around, I was greeted and asked if I needed any help. This blossomed into a ten minute conversation about the blog, the shop, how they're doing, other game stores, and promoting events. It was a great conversation, and dude, if you're reading this post, remember: Email me those events!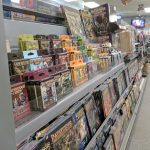 Now, let's talk about the store itself. Walking in, the entire right side has counter space, filled with CCG singles and dice. Along the back wall are all of the smaller items you don't want to have out in the open, like your CCG booster packs and deck boxes, boxes full of single cards, the soda cooler, and the like. Providing a walkway, and a separation between the counter and the gaming area, is a row of shelves (a "Gondo Run", if you've worked Target) full of RPG books and accessories, as well as board games. In the back corner there is another run full of games, as well as shelves of miniatures and casual games. They had a great selection of X-Wing Miniature pieces, that I regret not taking more time to dig through, nor more money to spend on them! They seemed to be fairly well stocked with a wide variety of games, including many of the Legendary Encounters and Munchkin variants.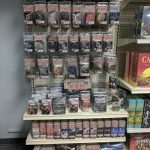 As far as service was concerned, I was happy. I wasn't ignored when I walked in, and I didn't see anyone ignored. Everyone was greeted, some of them by name, and it looks like, from the outside looking in, they have a steady group of people that, even if they weren't working there, were easy going and courteous. Remember: I was taking pictures in a crowded, busy store, so I did have to occasionally walk through groups of people talking, and not once was anyone annoyed. Note that the pictures don't show the gaming area. As it was crowded, I didn't want to get any pictures of their customers in there!
If you're in the Castleton area, and willing to deal with the traffic, Game Time is a good shop to check out. I will definitely mark it as a Friendly Local Game Shop! So, if you're looking to get your game on, here's what you need to know!
Who are they? Game Time
Where are they? 8244 Center Run Dr. Indianapolis, IN 46250
What are they? A Friendly Local Game Shop
What is their parking situation? Their lot is narrow, but there's plenty of parking fairly close.
When are they open? Monday through Friday from 2:00 PM to 10:00 PM, Saturday from 10:00 AM to 10:00 PM, and Sunday from 12:00 PM to 6:00 PM
What is their phone number, in case I get lost and need directions? 317.577.0900
Just kidding on the phone number! Internet! Where can I find them online? You can visit their website, like their Facebook page, and follow their Twitter feed!
This slideshow requires JavaScript.