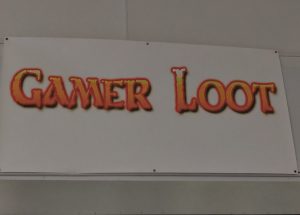 Washington Square Mall on the east side of Indianapolis has been a weird creature to me, over the past few years. As I was growing up, it was the "go to" mall for us, for movies, shopping, and beef jerky from the Hickory Farms (it was AWESOME). Over the past I don't know how many years, the mall has been sold by Simon, had "anchors" that won't even open their gates into the mall itself (I'm looking at you, Dick's Sporting Goods and Target), and has been labeled as "dangerous" despite many of the other malls in Indianapolis having similar issues with guns and teenagers. Recently, though, based on information I'd been given by friends and social media followers, I decided to give the mall another, very focused, try.
We entered using the mall entrance by the Target, took a left, then kept to the right. As we walked and looked around, we saw a sign (see slideshow below) that pointed down the hall towards the store's location. We headed down the hall, until we hit their location, on the right hand side.
When you walk in, you notice the shop is very spacious. They were able to get a good amount of space, and they're working on filling it. While this was my first time stopping in, I've seen pictures since they've opened, and it looks like they're taking the "We're going to stock what our customers ask for" route, instead of the "Let's have every game ever on the shelves" route, which is the wisest for a small business. When you look around, you'll find role playing supplies for Dungeons and Dragons, Starfinder and Pathfinder. You'll find minis for role playing. You'll find a selection of popular board games. There's X-Wing, there's dice, there's even a selection of pre-owned gaming books! If they don't have an item you're looking for in stock, they can get it ordered for you and to you as quick as their distributors can get it to them.
On the service side, they were very friendly. When I dropped in on a Sunday, it was a woman behind the counter (and I'm so sorry that I didn't write down your name!), and she immediately welcomed us, checked to see if we needed anything, and helped Lizz and the teen look for a gnome mini while I was looking around the shop. After I introduced myself, we talked for a bit while I got pictures, and discussed how this section of the mall is starting to become a bit of a "Geek Row" (more on this in the coming weeks), and how they have a great group that frequent the store. She showed me the gaming area, which was huge (see slideshow below), and we talked about how active their Pathfinder Society, Dungeons and Dragons Adventures, and Warhammer groups are. While they are still growing, they are very happy with their home at Washington Square, and are looking forward to being a source for east side gamers for years to come.
If you're looking to play games on the east side, I really recommend giving Gamer Loot a look! They are welcoming, knowledgeable, and happy to help folks play games. Check out the information on their location, and look at some of the pictures we took down at the bottom. Please note, the pics were taken in December of 2018, so stock levels will probably differ when you visit. If you see something in the pictures you want, please call the location to see if they still have it in stock before you head over!
Who are they? Gamer Loot
Where are they? 10202 E. Washington St. Ste #422 Indianapolis, IN 46229
What are they? A Friendly Local Game Shop
What is their parking situation? Located in Washington Square Mall, so plenty of mall parking
When are they open? Monday and Tuesday Closed, Wednesday and Thursday 3:00 PM to 9:00 PM, Friday and Saturday 12:00 PM to 12:00 AM, Sunday 12:00 PM to 6:00 PM
What is their phone number, in case I get lost and need directions? 317.388.5660
Just kidding on the phone number. Internet! Where are they online? You can see what's happening on their Facebook Page.
This slideshow requires JavaScript.