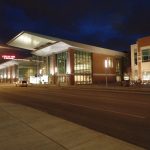 It's time, my friends! With the Georgia St. Kickoff Party last night, Gen Con 2016 is officially here! Normally, this week, I'd have a ton of posts listing great events, places to eat around downtown, and games I'm looking forward to playing at this year's Gen Con! Unfortunately, 2016 hasn't been a normal year, so I'm just now really getting a chance to take a look at what's going to be going on this weekend. That's right, for another year, this Geek is going to be attending the Best Four Days in Gaming here in beautiful Indianapolis, Indiana! Since 2013, I have been incredibly fortunate enough to be granted the ability to visit the convention as a member of the press, and I've taken advantage of it to do everything from play games, to interview almost the entire cast of LARPs: The Series. I've also accumulated some experience between that, and other conventions in the Indianapolis area, that some of you might want to know. So, here's my rundown of posts by myself, and others, pertaining to Gen Con, as well as folks to look out for while at the show!
First, let me say that by no means am I an expert at Gen Con. I still can't wrap my head around events, and it's all just too big for me to really comprehend, sometimes. I have gone a whole day without eating, which caused me to miss evening musical performances as friends drug me to get dinner, and I still haven't figured out the best places to park that won't cost me an arm and a leg. However, I have picked up a few things, and I've written about them, over the years! Here's a selection of a few posts you might want to check out!
Now, while I believe Visit Indy does the best job talking about our city, I do still have a couple of recommendations for places that I hit at almost EVERY downtown convention, but especially Gen Gon!
Coffee at Bee Coffee Roasters – Located right in the Pan Am Plaza building near the corner of Georgia St. and Capitol, this is where I get my coffee fix. Solid cup of joe, and they opened today at 6:30 AM, and they will be open until 5:30 PM on Sunday. If you need caf for your late-night gaming session, THIS is your place!
Scotty's Brewhouse – Not right by the convention center, but still within easy walking distance! Scotty's is a local chain restaurant that pretty much thrives on burgers and beer, and it's good burgers and beer! They normally with with Paizo to have a Pathfinder theme during Gen Con, they run science fiction, fantasy, and comic book movies on their monitors instead of sports, and they have free D6's for those who order off their Gen Con menu (while supplies last). This is normally a Saturday night tradition for me and my friends from Hero's Emporium.
Now, of course, there are the events at Gen Con! I don't do much in the way of panels, or events, but I still have a couple of "Must Hit" things!
Thursday at 6:30 PM – A Capella with the El33ts! This is a local group, that performs A Capella versions of video game music! I caught them last year, and I'm really looking forward to this year's show! ($2 Event Ticket)
Friday at 7:00 PM – League of Xtraordinary Programmers! I wrote about it, I gave away tickets, you KNOW I'm going to be there! Food, drinks, games, and tech, all brought to us by TechPoint! Visit the link for info!
Finally, there are the people and the booths I need to check out. There are hundreds of booths there, but I only have a few that I absolutely need to visit. Please note that most of these are for locals, with the exception of one or two!
Finally, there's me. Normally, when I'm at a convention, this is what you're looking for:
Yeah, I'm not really going to stand out at Gen Con. I'm a bald man of weight with facial hair, and a tendency to wear a fez, a Hawaiian shirt, cargo shorts, and a backpack. However, if you DO see the right bald man of weight with facial hair, in a fez, Hawaiian shirt, cargo shorts, and a backpack, make sure you say hi! Also, I might be letting the fez rest on one of those days, so it you think it's me, but I'm not in a fez, it still might be me!
As always, keep an eye on my Twitter feed! I'll be taking frequent rest breaks, and when I do, I'll tweet where I am. If you want to drop by, tell me why you enjoy being a Geek in Indiana, or just say hi, feel free!
Stay safe, have fun, and remember: We're all in the con together, so don't be a dick!
Tony