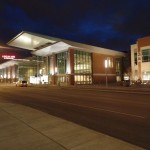 It is that time of year, folks! It's time for the Best Four Day in Gaming (trademarked)! Unfortunately, with my blog output WAY down ever since the events of 2018, what's normally a week worth of posts is going to, once again, get crammed into a single post the day before the convention starts!
Gen Con has been hosted by our city since 2003, and has been a fantastic partner, bringing in thousands of people, working with local businesses, and raising over a quarter of a million dollars for local charities. We love to see them here, and I love to give you tips and advice on how to enjoy the show!
First, and foremost, you need to remember, you're not going to be able to do, or see, everything. There are over 20,000 events happening all around downtown Indianapolis, including the convention center, Lucas Oil Stadium, and all the surrounding hotels. FOMO is real, and we all just have to deal with it. That being said, here's some information I've posted on the blog through the years that still holds pretty dang true today.
Convention Tips & Tricks – Very important stuff. This is also one of those instances where I encourage everyone to read the comments, for more reader suggestions!
Tips & Tricks 2: How to Avoid the Wrath of Con – A follow-up post to Convention Tips & Tricks, with a few more nuggets of info!
Gen Con Must See: Costumes – Originally written to talk about looking forward to seeing the craftsmanship of the costumes at Gen Con, this has some great info on how to interact with costumers, including a piece written by fellow Star Trek Discourse panelist, Matt Hofmann, about how to interact with costumers, especially members of the 501st and Rebel Legion!
I'm not the "be all and end all" of Gen Con tips, either (especially not with only three posts). Here's some great stuff from folks outside the blog!
Handicap Awareness at Gen Con – Penned by local author Hans Cummings, this points out some of the experiences his wife has had at Gen Con. This points out how you can follow Wheaton's Law (Don't be a dick), and has tips for those who need to use accessibility options at the convention center (like Lizz needed last year).
A Geek's Guide to Indianapolis – Chris Meadows is a long-time blog follower, and writer of this book. He updates it constantly, and it's a decent resource for those who want to know about the area.
Now, while this is about conventions, there's also the little matter of negotiating your way around Indianapolis. You see, the state flower (orange construction barrels) is in bloom, and it's making a mess of our interstates. In face, I-70 is closed, in both directions, from the south side by the airport, up to downtown. Read about that, and other closures, at this Visit Indy Link!
Another thing worth noting is that I had the opportunity yesterday to taste the new Sun King Beer (Brewtron 9000) and the pizza from Hot Box (Tater Quest), thanks to Gen Con and Visit Indy. I don't drink much beer these days, so my taste for different styles is wonky, but friend of the blog Gin mentioned it was a "sour", and it definitely covered the "tart" in "tart golden ale" with a flavor that was not unpleasant, and pretty decent. The Tater Quest pizza was better than any pizza covered in tater tots had any right to be, and had a flavor not unlike cheesy hash browns. If I have the money, and the time, I'm hoping to try both again during the show!
This slideshow requires JavaScript.
Finally, I want to talk about Team Geeking. This year, Lizz and I will be at the show all four days, and this is in HUGE part thanks to the sponsorship from the local company, FlexePark! Now, full disclosure, I am the social media manager for both Flexepark and their parent company, Andromeda LLC, but they saw me joking about a sponsorship, and decided to help cover a lot of our expenses including, amusingly enough, parking! So I want to give a huge thanks to FlexePark, and encourage you to follow their Twitter Feed, like their Facebook page, and use them if you're ever looking for parking!
I hope everybody has a fantastic Gen Con, and I hope to see you! However, please keep in mind that if we can't stop long, it's nothing personal, we just have a panel to get to!
Tony