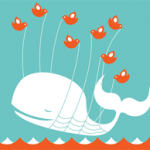 Happy Thursday, and the first official day of Gen Con 50! Currently, Lizz and I are probably waiting in line for our badges (hers at Will Call, mine at the Press room) before we go to the floor and brave the crowds for a new fez and some dice. I know that we, along with many other folks, will be going to social media to proclaim triumphs and express frustrations, try to stay connected with friends, and generally just wanting to show off awesome things. Of course, there are ways to keep track of these things, like following the hashtags #GenCon, #GenCon50, or #GenCon2017. Or, you could find cool people who will be there, that are tweeting!
For the last few weeks, I've been asking folks here in Indiana whether or not they want to be added to a "Hoosiers at Gen Con 50" Twitter list. Currently, at the time of this writing, I've got thirty folks who will be attending Gen Con as either the press, an attendee, a booth volunteer, or even a booth runner. I'm anticipating adding a few more, but this is a solid start on being able to see what all is going on, from hopefully all aspects of the show. You can find the list at this link!
In addition, you know about the Awkward Twitter Mingle panels at Indy PopCon? Well, we're doing something a lot smaller at Gen Con this year. I've created the Awkward Twitter Mingle account on Twitter, @AwkTwitMingle, so we can hold some impromptu "Tweet Ups" during the con. This is a new experiment, and I'm not sure how well it'll work, but I'm giving it a shot! So, if you'd like to participate, give that account a follow, and we'll hang out!
It's a short one today, because I feel most of my readership is downtown, or doesn't care about this. If you're downtown this weekend, find me and say hi, and if not, don't worry, we'll return to regular programming soon!
See you tomorrow!
Tony