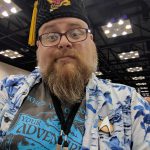 Tomorrow's the big day, isn't it? I mean, sure, tonight is the kick off on Georgia Street, with the beer and the music, and gamers are already descending upon our city, filling bars and hotel lobbies with pick-up games. Myself, I'm at work today, then getting settled in and ready for the con tonight, so Lizz and I can pick up our badges tomorrow morning, and get rolling!
Now, it's not often I go into Gen Con with a plan. Normally, I just wander the dealers/exhibit hall, play some games, and get distracted by friends. This year, however, I have some shows to catch, some items to track down in the dealer's room, and all that fun stuff! Now, remember, I'm not a hard-core gamer. My board game collection is rather small, and I'd much rather pick up stuff from a local game shop, then lug a bunch of stuff around Gen Con. However, there is still commerce I would like to engage in!
So, what am I looking for?
New Fez – Fez-o-Rama started attending Gen Con a few years ago, and they are the place where I picked up that sweet fez you see me wearing at every "Indiana Geeking" appearance around town. This year, they have a new dragon fez for Gen Con's 50th, and I covet this. I need a red fez in my life, so this is one of the first things I need to get!
Gen Con Dice – Every year, Crystal Caste (I think, fact checking is not my strong skill) does a free d6, and then you can buy a Gen Con dice set in a tin. I've been picking these up the last few years, and I need to grab this years!
Dice – Somehow, my new set of dice has come up missing, as has Lizz's set of dice. We will need to grab some this weekend, for pick up games!
Star Trek Adventures – Last year, I had the opportunity to sign up for the test group for the new Star Trek role playing game by Modiphius. While I didn't have a chance to play it, it looks like a lot of fun, so I want to pick up the sourcebook from their booth at the con. "Tony, you just said you prefer to pick up games from your FLGS. Why are you buying this from the maker?" Well, because I can't get it at retail yet, and I admit that I want to do the "fanboy" thing and get it signed by the people who made it.
Star Trek Adventures Dice – Red, 'natch. I need red shirt dice.
What else am I looking to do?
Starfinder Demo – I'll be interviewing both Paizo and Syrinscape about their offerings for the new game, Starfinder, and I'd LOVE to get in on a demo on Thursday, but they're saying the events don't require tickets. This has be bummed, because that means it's probably going to be difficult, and I'm not THAT invested! I just want to know the game I'll be talking to them about!
They Might Be Giants – I mean, seriously. This is a great way to spend an evening after Gen Con. Plus, I admit that, despite being a fan of theirs for years, I have never actually caught them live, so I'm doubly looking forward to this!
The Shake Ups – Back to back shows with their Ponyville Set, followed by their Beach City set? In the afternoon on Saturday, where I NEED to sit down for a few hours? Sign me up! You should sign up too!
Star Trek Adventures – I'm STILL looking for any events with this new game, to help me learn how to play it!
So, what other stuff should Lizz and I be looking into? Let us know, and we'll research it tonight!
See you at the con!
Tony