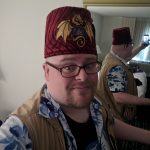 Happy Friday, my friends! We are down one day of Gen Con 50 (at least, we are when you read this! I was too busy catching They Might Be Giants last night, so this was written earlier in the week), and I figure that, by this point, I should do my standard, "Where to find me" blog post. First, pay attention to the selfie attached to this post. The beard is gone, so instead of a big, bald, bearded dude, walking around in cargo shorts, a Hawaiian shirt, and a fez, I'll be the big, bald dude with a goatee, walking around in cargo shorts, a Hawaiian shirt, and a fez. So, you know? Totally different.
Today, if you see me around on the con floor, I'm probably going to either be speaking with a game developer, or media contact, because today is my "interview" day. So, if you see Lizz and I between 10:00 AM and 2:30 PM, either loitering at a booth or rushing between booths, please understand if we just wave, or not even notice you at all. It's nothing personal, we're just struck by that whole "time anxiety" and "WE'RE GOING TO BE LATE!!!" thing. However, after that, if you see us, we will be 100% less self-important and approachable!
Always remember, the easiest way to keep track of me is via social media. This includes a fairly new Twitter account I talked about yesterday, which is for the Awkward Twitter Mingles, called @AwkTwitMingle. We'll be doing pop-up Tweet Ups throughout the con, to talk about the cool games we've seen, and what else we're looking forward to. You can also keep track, of course, via Twitter and Instagram, though the latter does just feed into the former, so just Twitter would probably be okay.
In addition, there are a few events where you can find us. Tonight, we'll be heading over to Scotty's Brewhouse for the free show, Five Year Mission vs. Yavin 4. It's Star Trek vs. Star Wars, via the local band scene, at a venue that will be covered with Paizo's Starfinder stuff, and will more than likely have Star Wars costumers out on the patio for part of the evening! On Saturday, we're still working on our schedule, but two "must watch" panels/shows for us are the Shakes Ups, doing their Ponyville set at 3:00 PM, and their Beach City set at 4:00 PM. You can find all of the panel information on the most recent Tuesday Tidbits post.
If you see me and Lizz, and we don't have a recorder in someone's face, feel free to say hi! I love seeing people from social media and the blog!
Have fun, game on, and we'll see you back on the blog next week!
Tony