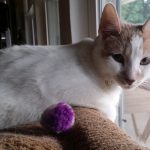 Update 6/10/16: Holy dead presidents, Batman! Thanks to some really awesome people, Reiki's bills are 25% paid! This is via the PayPal donate option, so I know there are some fees coming out, but that's okay! I still have about $1,500 left to go, and while I'm still not expecting to have my readers fully pay this off, every bit helps! So please, if you can, and if you want to, feel free to donate, or at least use my Amazon Affiliate Link (found on the top of the page) when you're shopping! Thank you!
Original Post:
Hey there, folks.
In case you haven't noticed over the last week or so, Reiki the Geek Cat has had some issues. Starting on Monday morning (Memorial Day), he had left no little gifts for me in his litter box. He was playful, and eating, so I didn't think anything of it. Come Tuesday, there was still no nuggets of joy to be found, and I couldn't tell whether or not he was eating. By the end of the day Wednesday, I was certain he was not well, as he had not pooped in the litter box (or elsewhere. Trust me, this is a foul kitty, I would have known!), and he was not eating. So, Thursday, I was able to squeeze in an appointment at the McCordsville Veterinary Hospital, where an x-ray showed a possible blockage. I was sent to the VCA Advanced Veterinary Care Center on 96th Street just off I-69 (note: This was after leaving work at 96th and Michigan, heading home near E. Washington and Sherman, and then heading to McCordsville), where they wanted to keep him overnight, for an IV and observation. On Friday morning, an ultrasound showed a slight blockage, and the Geek Cat had the joy of receiving an enema, which cleared him out pretty good, and revealed a piece of rubber he had chowed down on that, quite frankly, I have no idea where it came from! After one more night of observation, he was sent home.
The drama didn't end there. After picking him up from VCA, I had to then travel over to Nora, to the Nora Apothecary, to pick up kitty medicine. After picking that up, and dropping the kitty off at home, I then had to go grocery shopping, to get chicken, cottage cheese, and rice for a "bland" food mix that he's currently eating. Plus, every morning and evening, I'm having to give him a pill, as well as a dose of the kitty medicine. Luckily, they also trimmed his nails when he was at the vet, because I can tell you, this makes for a VERY unhappy kitty!
However, now I'm on the horns of a dilemma. See, this much treatment, and medication, wasn't cheap. In fact, here's how it broke down:
Initial Vet Visit: $$178.50
Emergency Vet Visit & Stay (skipped the optional spa treatment): $1,774.93
Medication That He Spits Out: $31.75 (They didn't accept my prescription card)
Grand Total: $1,985.18
This does not include the grocery run for his "bland" diet food, or the gas it took to drive from Work, to home, to McCordsville, to 96th/I-69, and then back to the vet at 96th/I-69 a few more times to check up on him, then pick him up. So, let's just go ahead and round it up to $2,000.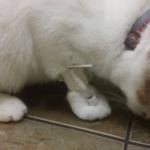 Luckily for me, while I don't have this kind of scratch, I have an emergency credit card I could put it on. This is also in my parent's name, and on their credit, and they don't like a balance being kept on it. One issue is, my folks are retired, and on a fixed income. I'm looking at my budget, trying to figure out how I can help, but I'm still dealing with medical debt from the end of last year, paying for school, and having to get the Cardis worked on. So, I'm really tight with the dollar bills right now. And the quarters. And the pennies.
As I was tweeting/posting about this on Facebook, I had more than one person ask me how they could help, and let them know when I had the GoFundMe set up to help pay the bills. Well, I'm not doing that. In all honesty, I have the means to collect money here on this website. While the accountant in me does his best to make sure the money brought into this blog goes right back into the blog, I have not yet made the blog a separate entity, so it's still part of Tony Troxell, ower of a lot of money for a sick pet. So, with knowledge of how much I currently have in the blog's bank account ($50.24, thanks to some personal deposits over the last few paychecks) and knowledge of how much I currently have in the blog's PayPal account (absolutely nothing. I don't leave money in PayPal!), I'm going to throw this out there.
If you wish to help with the Geek Cat's medical bills, and help get that card paid down so it's not hanging over us, please feel free to use any of the #FeedABlogger links over the month of June. All money brought in via the Amazon Affiliate, with the exception of money coming in for other Team Geeking members, will be used for the medical bills. If you wish to donate directly, please use the PayPal "Donate" button, on the sidebar just over there on the right hand side. Over the course of the month, as Amazon shows more money, or donations are made in PayPal, I'm going to update the thermometer below, so folks can see how close we are. Now, am I expecting to see that thermometer full? Not really, no. However, I am very happy to say that, even as I'm putting this up, there is already some filling going on, via both donations and Amazon sales.
Provided by CoolFundraisingIdeas.net
Everyone that donates will be included on the Awesome Supporters page, as Friends of the Geek Cat (Note: I can only do this from PayPal donations. Amazon doesn't tell me who buys what)! I know it's not much, but as I've said before, I'm kinda up a creek here, so until I can afford some signed 8X10 Glossies of the Geek Cat in his Unicorn hat and a bow tie, that's the best I've got.
And now, I kind of need that picture in my life…
Anyway, if you can help, great! If you can't help, that's not a big deal, either! I just had some friends that asked, so I'm putting this up there, to try to help get my kitty paid off.
Only 28 more installments, then this fuzzbutt is mine…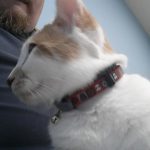 Thanks, friends!